Overview

Premium Features
Premium components ensure serious performance, natural sound and great reliability at an exceptional value
Low frequency, powered subwoofer for home theater and home audio applications
Audio grade MDF wood construction to reduce cabinet resonance
10" long throw driver for longer excursion and better linearity
Tuned bass port for controlled low frequency response and improved efficiency
Thick hi-roll surrounds that support their longer excursion for tight, precise and accurate bass
Compact ported enclosure is only 18-1/2" x 12-5/16" x 16-1/2" for smaller footprint
Integrated 150 watt continuous power high current amplifier
Line and speaker level inputs allow the DB to be connected to any audio system
Adjustable low-pass filter, volume controls and phase switch allow perfect integration into any system
Magnetically shielded to avoid interference with other video products
Premium black ash vinyl veneer woodgrain finish to compliment any home decor

The high-performance Fluance DB Subwoofer System offers our listeners incredible, room-shaking bass in a uniquely small profile. Utilizing state-of-the-art engineering technology, the DB series can accurately reproduce any cinematic special effect - from the low rumble of an earthquake to the powerful blast of an explosion, the Fluance DB Subwoofer System offers a truly immersive listening experience. All of these factors combine to make the Fluance DB series an ideal choice for audiophiles seeking accurate and powerful low frequencies for movies and music alike. Plus, with its compact footprint, the DB series subwoofers can easily be placed in a corner of the room or behind the couch for an unobtrusive low frequency experience.

Fluance DB Powered Subwoofers are specifically tuned to their enclosure and designed to reproduce both low and ultra-low frequencies while still offering minimal distortion. While most digital recordings contain bass information that traditional speakers cannot easily reproduce, Fluance powered subwoofers are designed specifically to reproduce those low bass frequencies - an integral part of any home theater system.

Our sound engineers understand the importance of deep realistic bass and have designed our products to accomplish this! Our high-performance DB Subwoofer Systems produce bass with large high excursion long throw drivers, compact heavy-duty enclosures, and powerful built-in amplifiers. The integrated 150-watt RMS power amplifier drives a front-firing long-throw 10" bass driver with extreme accuracy and minimal distortion for clean, powerful, and well-defined low frequency response throughout the listening area. This extended low frequency effect can be fine-tuned to suit your performance preferences, with variable dynamic balance crossover and volume adjustments to ensure matched response with your speakers and your environment. Fluance subwoofers are an excellent complement to any music or home theater system and ideal for today's digital receivers.
Specifications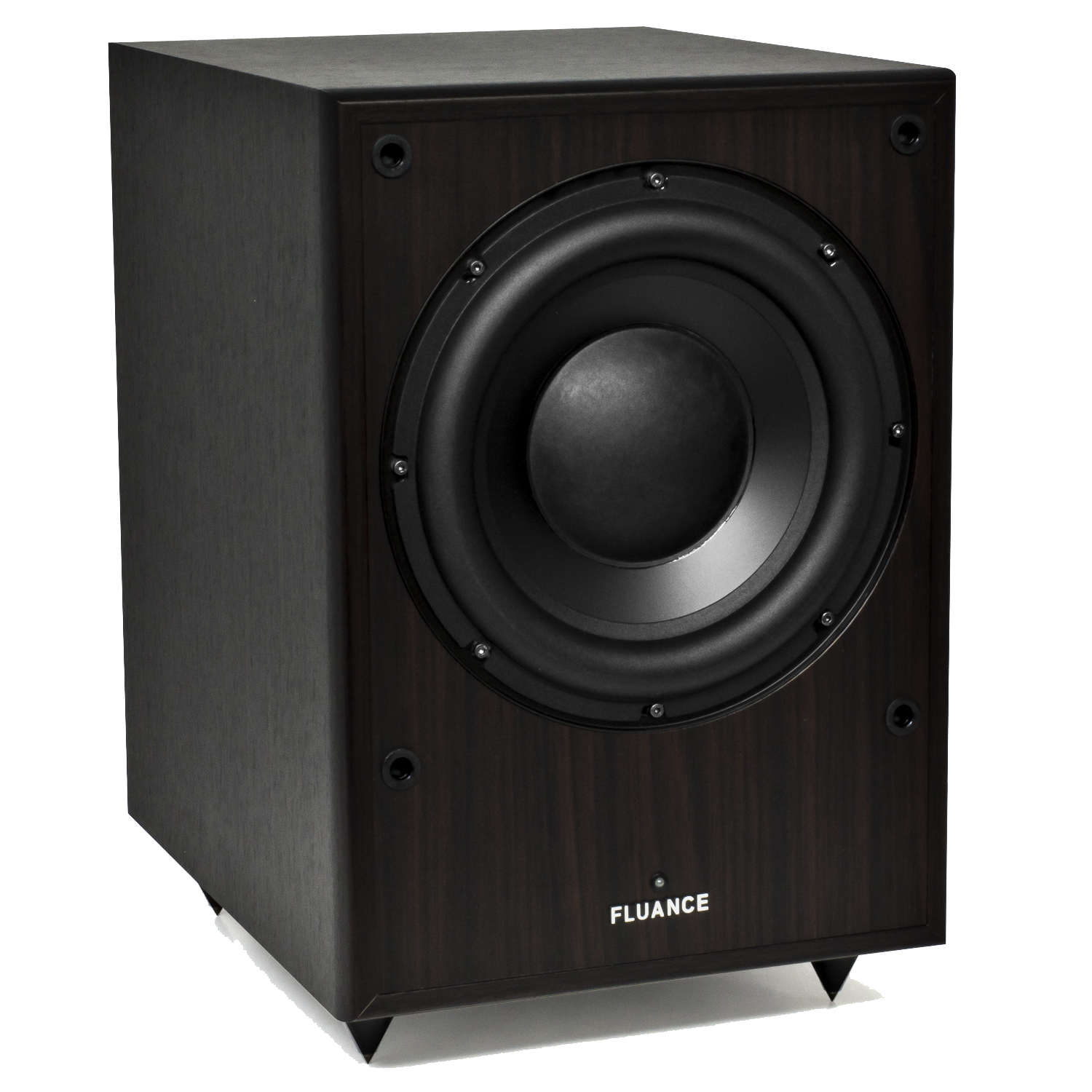 Speaker Configuration
Front-firing Powered Subwoofer with Integrated Amplifier
Low-Frequency Driver
10" Pure-cellulose Fiber Cone with Hi-roll Rubber Surrounds
Amplifier Power
150-watts Continuous Average Output
Input
Line-level (filtered) and Speaker-levels
Low-Pass Crossover
Continuously Variable from 40Hz - 150Hz
Frequency Response
<30Hz - Low-pass Crossover Setting +/- 3dB
Enclosure
Front-firing Tuned Bass Reflex Vented via Flared Ports
Gain Control
No
Dimensions
18-1/2" X 12-5/16" X 16-1/2"
Speaker Weight
39.40 LBS
UPC
061783258347
What's Included
10" 150 Watt Powered Subwoofer
Instruction Manual
Full 2 Year Parts and Labor Manufacturer's Direct Warranty
Lifetime Customer Support
Customer Reviews
A C

November 20, 2015

Super-impressed with this subwoofer. Not only did it arrive quickly and packaged really professionally, but instructions, setup and sound quality have been top-notch. Nothing else even close at this price-point and challenges many of the (much) more expensive brands. I started with the sub as a way to check out the company and their product quality, and now I'm thinking of getting a full home theater setup!!

Brian Forsey

November 20, 2015

Just added sub woofer DB150 to 2 SXHTBFR spks...a major improvement...bass sound is deep and full...planning to add 2 SV10 spks and 1 SV10C centre spk to complete my theatre system driven by a pioneer elite receiver... Highly recommend Fluance Speakers...A very high end sound at an inexpensive price...GREAT VALUE..

Tim Otten

November 20, 2015


Received this subwoofer in 2 days and was packaged very well. Have had it installed for a few days only, but it was a great replacement for the existing small 8" sub. Very easy to install and adds great bass to my complete system. It was the last item needed to complete my home theatre system; I already had the AVHTB 5 pc speakers and a Denon receiver. Thanks Fluance for another quality product at a great price.