Overview

12-inch Low Frequency Powered Subwoofer
The Fluance DB12 Powered Subwoofer is ready to rock your body with a powerful bass performance empowering you to become truly immersed in any music or movie experience from a mesmerizing bass guitar solo to a ground shaking movie explosion.

Summon the Power of the Low Frequency Gods
Enjoy extraordinary performance in your home theater adventures with the Fluance's flagship subwoofer. While most recordings contain bass frequencies that traditional speakers cannot easily reproduce, the DB12 is designed specifically to reproduce those ultra-low bass frequencies - an integral part of any home theater.

High Performance 12" Long Throw Driver
Equipped with a front firing driver the DB12 offers longer excursion and controlled linearity for a smoother, deeper bass performance. This ensures you are hearing the lowest frequencies on every track consistently without any unexpected roll off. The rigid cone design is able to provide deep bass while maintaining minimal distortion.

High Power Accurate Reproduction Amplifier
This high performance, low distortion amplifier provides a continuous 240 watts of clean, dynamic power (400w peak) to deliver a heart pounding boom at the most intense music and movie climaxes.
Acoustically Perfected & Solidly Constructed Wood Cabinet
The DB12 has been ported and precisely tuned to the enclosure and designed to reproduce both low and ultra-low frequencies. The solid cabinet construction uses engineered MDF wood for a warm and distortion-free sound. Utilize two DB12's for the ultimate 5.2 or 7.2 system that creates an even more immersive home theater experience.

A Passion For Great Audio
Fluance has successfully revolutionized home audio. Utilizing only superior components and expert audio engineering, the DB12 is a testament to the performance that can be achieved when a passion for music takes center stage. The perfect complement to any audiophile's lifestyle, you'll be enjoying live performances in your home for years to come.

Room placement – With its compact footprint, the DB12 Subwoofer can easily be placed in a corner of the room for an unobtrusive low frequency experience.
Specifications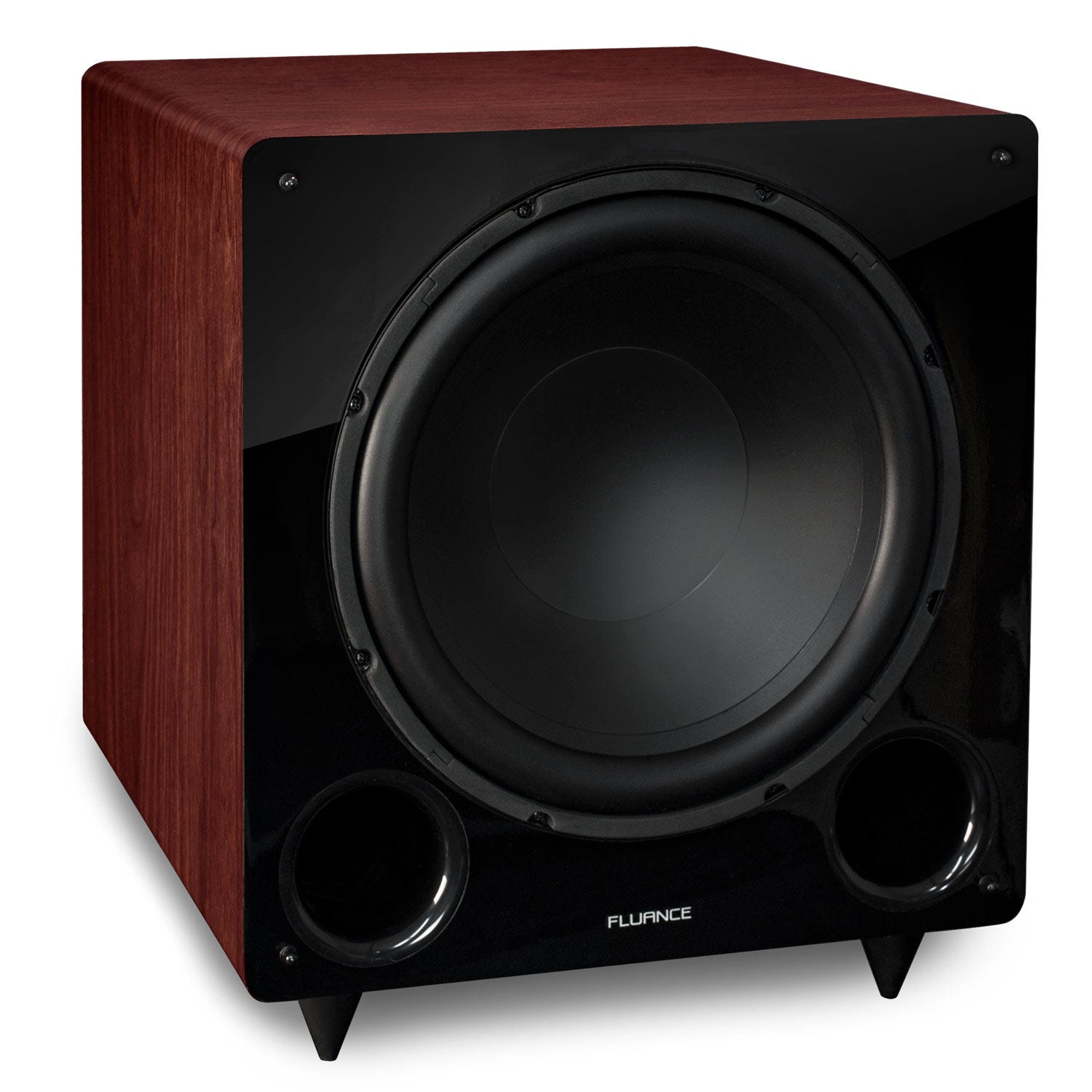 Speaker Configuration
Front Firing Powered Subwoofer with Integrated Amplifier
Low-Frequency Driver
12-inch Long Throw Polypropylene with Rubber Surround
Amplifier Power
Peak 400W / RMS 240W
Input
Line/Low Level Subwoofer (RCA L/R) and Speaker/High Level
Audio Output
Line/Low Level Subwoofer (RCA L/R) and Speaker/High Level
Low-Pass Crossover
40Hz – 180Hz
Frequency Response
36Hz – 180Hz (±3dB) Full Range Anechoic Measurement
34Hz – 180Hz (±6dB) Full Range Anechoic Measurement
Power
120VAC (60Hz)
Cabinet Specifications
Precision Crafted MDF Internally Braced
Enclosure
Front Firing Tuned Bass Reflex Vented Via Port
Phase Adjustment
Reverse & Normal
Auto Function
Yes – (100Hz signal input reach 3mV, 1KHz input 5mV)
Gain Control
Yes
Dimensions
16.7 x 15 x 16.8 inches
Speaker Weight
37 lbs
Certifications
ICES, FCC Certified, ETL/CETL
Fluance Speaker Size Comparison Chart

UPC
061783266939
What's Included
Fluance DB12 Active Subwoofer
Power Adapter
Quick Start Guide
Fluance Catalog
Lifetime Customer Support
2 Year Manufacturer's Warranty
Customer Reviews
Bjorn

May 24, 2017

Very nice piece of gear! I am using this in my main stereo hooked up with 2 sets of wires to the amp, and my L/R speakers are hooked up to the sub.This set up never sounded better-the speakers were old Thiels and the amp is a 40 year old Rotel. The speakers now are the Fluance XL7F reviewed next. - Verified Store