Regular Price: $199.99 USD
Special Price $169.96 USD
Specifications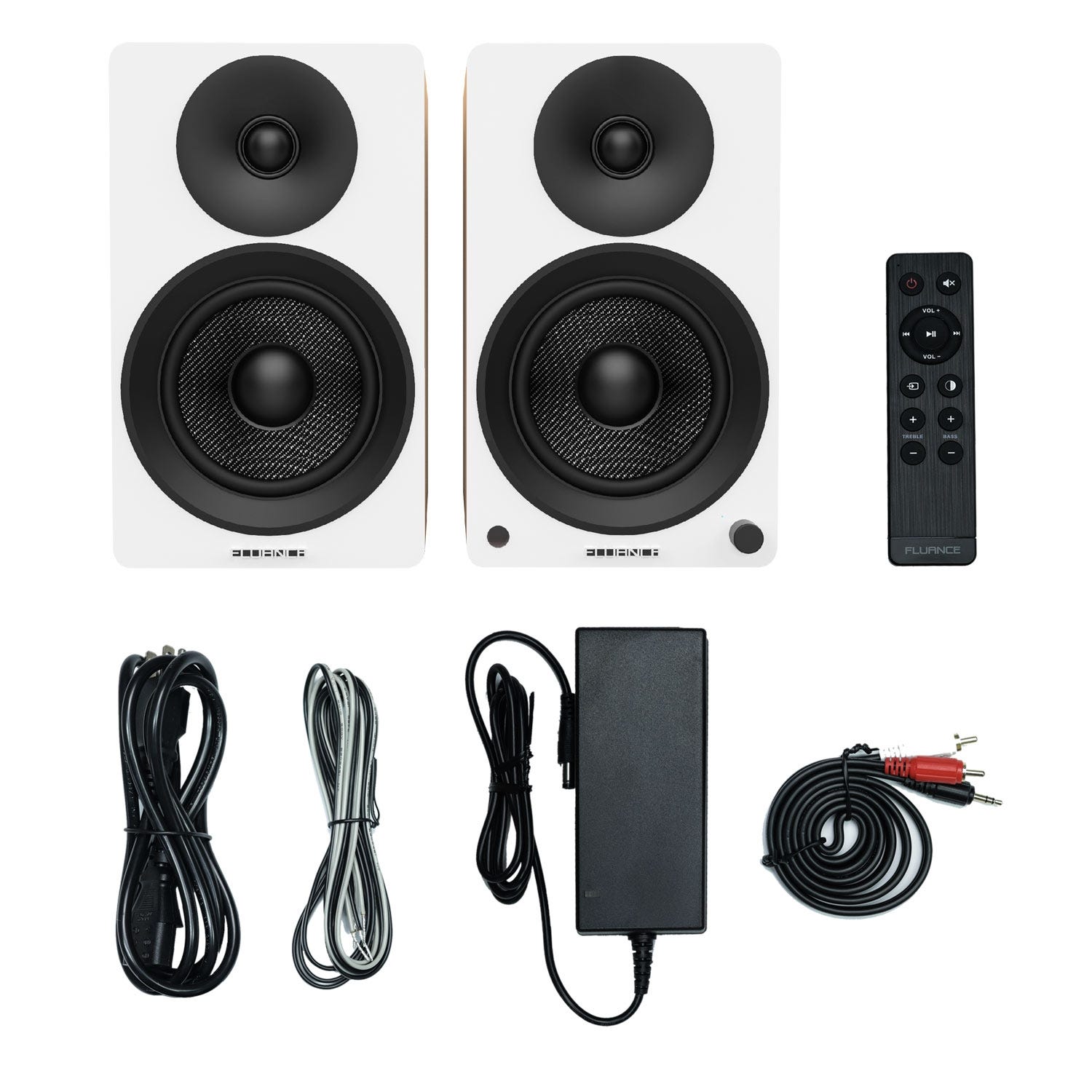 Speaker Configuration
2 Way – 2 Driver Bookshelf Speaker System with Integrated Amplifier (Pair)
Bluetooth
Yes; aptX Codec
Inputs
RCA L/R
Tweeter
1 inch Silk Soft Dome Ferrofluid Cooled
Woofer
5 inch Woven Glass Fiber Composite Drivers with Butyl Rubber Surrounds
Amplifier Power
Class D 70 Watts Continuous Average Output (2x 35 watts)
Frequency Response
40Hz – 20KHz (DSP Virtual Sound Perceived by Ear)
Internal Lead Wire
18 gauge Internal Lead Wire to Reduce Signal Degradation
Power
Input: 100-240V; Output: 19V 3.15A
Enclosure
Acoustic Suspension Design
Dimensions
10.9 x 6.5 x 7.6 inch
Speaker Weight
15.1 lbs
Speaker Type
Bookshelf
Phono Preamp
No
Certifications
ICES, FCC Certified, ETL/CETL
Subwoofer Output
No
Frequency Response Graph

Click to Expand

UPC
871363024770
What's Included

Ai40 Speaker Line Out

Click to Expand

Fluance Ai40 Active Bookshelf
Speakers (pair)
Remote Control
2x AAA Batteries
100-240V Power Adapter
8ft 18 Gauge Speaker Wire
3ft 3.5mm Aux to RCA Cable
Quick Start Guide
Fluance Catalog
Lifetime Customer Support
2 Year Manufacturer's Warranty
Pro Reviews

AVS Forum Reviews the Ai40 Bookshelf Speakers
"the package looks good, sounds good, and fulfills both digital and analog playback rolls with enthusiasm."

Read Full Review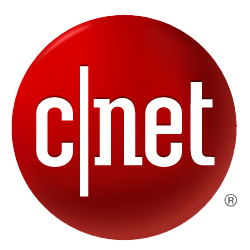 Steve Guttenberg of CNET Reviews the Ai40s
"Fluance's $200 stereo Bluetooth speakers sound is almost too good to be true"

Read Full Review



The Soundbar Killer - Review by Joe N Tell
"They get more than loud enough, it's a super flat frequency response... I don't know what else you can ask for when it comes to speakers, for me, these are the holy grail when it comes to speakers."


iMore Reviews the Ai40 Bookshelf Speakers
"the Fluance Ai40 rise above their ranks and set a new gold standard for bookshelf speakers"

Read the Full Review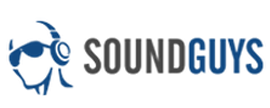 Loud sound, innocuous design - Soundguys Reviews the Ai40 Powered Bookshelf Speakers
"For a pair of sub-$200 speakers, these are a no-brainer for home audio enthusiasts. From the home audio beginning to the ardent enthusiast, the Ai40 are a solid fit."
Read the Full Review
Customer Reviews
Jim B.

November 29, 2018

Advanced Listener - 20+ Years

South Dakota, United States

These are impressive speakers, clarity, depth, sound stage, just a few descriptions that truly apply to these, especially for $200. The lows get low, not room shaking but definitely enough that in a small room a subwoofer would not be needed, the mid's are clear and make vocals really stand out and the high's are crisp but not overly done. With the remote, being able to adjust the speakers and change the input is definitely an added bonus. I am really enjoying these speakers and I think anyone else would as well.

Nic N

November 27, 2018

Novice Listener - 15 Years

Ontario, Canada

They're just wonderfully featured, at an incredible price. The features, construction, aesthetics, and sound really command a much higher price, but I'm very glad I was able to get them for so little. They're really wonderful. Not amazingly detailed for critical listening, but for very laid back listening they're wonderful. Also great as an apartment dweller because ported speakers make the walls and floor shake, but these don't, and still delivery adequate bass. As a side note customer support is also top notch. Very nice people working at Fluance.

Richard

November 10, 2018

Intermediate Listener - 20+ Years

Arizona, United States

I wanted to wait a week before putting my thoughts about these speakers online. In a word: Perfect. My new speakers replaced a Yamaha soundbar I has used for my office system. I dawned on me, I wasn't really hearing anything close to the separation and "spacing" I grew up on with decent stereo systems over the years. But I got lazy and settled for "convenience" over great sound.

These sound a lot better than the Polks and other decent speakers I've owned. Oh and by the way, the bluetooth connection is flawless. Sound quality is subjective. To me, the high end and mid ranges are outstanding. The low end doesn't boom (It's not supposed to); it is tight and punchy when needed.

I test all my headphones and speakers with Country Joe and the Fish's Electric Music for Mind and Body, specifically Flying High. Yep, these are the real deal. Blew me away. Worth way more than $200 and the bamboo/white finish completes the cool ambiance.

Buy these. (Cool little Canadian flags on the back sealed the deal for me).

Joe Bartholomew

November 1, 2018

Advanced Listener - 11 Years

North Carolina, United States

Great sound quality with both Blutooth and hardwire using provided AUX to RCA cord. I prefer the sound better with RCA vs Blutooth. Pairs easily via Blutooth with my iPhone and amazon firestick. Aesthetically look awesome and are approved by my wife. I have the bamboo with white face. Remote works great and I love the ability to adjust the bass/treb. Bass output pleasantly surprised me for sure being a sealed enclosure. Highly recommend

Wilfried W

October 31, 2018

Advanced Listener - 20+ Years

Florida, United States

For the price unbeatable build and musical quality. After using the XL7S-DW as main computer speakers I saw these and liked their shape - even smaller and white front matching my surroundings. Skeptical about sound quality, Ia m blown away by their fantastic sound: even deeper, very crisp bass, nice highs and excellent mid tones! All for $ 200! Unbelievable...

Cliff

October 20, 2018

Intermediate Listener - 20+ Years

Alberta, Canada

Bought these for my son for his birthday. He is a big fan of vinyl and he connected these to his Technics turn table and he loves them. The sound is fantastic.

Sergei

October 20, 2018

Audiophile - 18 Years

Illinois, United States

Holy mother of Jesus. These speakers are incredible. They need some time to open up (cone surrounds need 10-12hr of break in time). I use mine on the desk next to my computer, raised about 6 inches above the surface. Wonderful soft , yet detailed full range sound, even at very low volumes. The bass is super detailed and clean. I use Boom 3D app to shape sound. Jazz, rock, drum and base all sound sweet. Near field the speakers are very mellow and don't make your ears bleed:)

Babak S

October 11, 2018

Audiophile - 15 Years

Saskatchewan, Canada

I had the Harman Kardon Onyx studio 3 which I thought was a great speaker! But compared to Ai40 it's a piece of garbage. I didn't have crazy expectations from Ai40 because of the price being so reasonable. But I was surprised by the quality of the material, design and the sound. It's unbelievable that this only cost $260 I'll tell you don't waist your time looking at other speakers and buy this you'll be very happy to have them!!!

Scott Bowers

September 11, 2018

Intermediate Listener - 15 Years

Ontario, Canada

No sealed 5 inch speaker, powered or otherwise, should sound this good. I've been listening to these for a couple months now and they still shock me on a daily basis. Highs, mids are fantastic and the bass (as the title says) is ridiculous. And if you don't agree then change them with the remote! The bamboo and white finish is gorgeous as well. So impressed I'm considering another set.

Jeff M

September 5, 2018

Intermediate Listener - 15 Years

Ohio, United States

Amazing sound for the size. Very easy to pair with both with my Audio-Technia turntable and iphone. Free delivery helped seal the deal, and they were packaged very well.No complaints.

James F

August 31, 2018

Alberta, Canada

I'll preface this review with the acknowledgement that I am not an audiophile by any stretch. I do, however; know what I enjoy listening to and that includes some bass. My unsophisticated ears need said bass to truly enjoy any music that I'm listening too. My musical tastes are eclectic, ranging from Hip Hop to Jazz to Ambient to Metal to Podcasts and even some country occasionally. The speakers don't need to have cranium rattling bass, but they need to provide some lows without a subwoofer.

The background: I wanted a replacement for the 2.1 computer speaker set-up in my home office (approx. 8x10). Although my current 2.1 Altec Lansing setup served me very well, were minimalist and offered nice sound – they were 15+ years old. They did not have Bluetooth and could only be connected to one source. I spend several hours in this room daily and wanted to upgrade the sound and have more flexibility in sources. Further, I thought that I might be able to find a minimalist set-up that would have competitive sound quality (sans subwoofer). My criteria were that the new speakers be minimalist, have Bluetooth or enough inputs that I could simultaneously connect to my 2017 27" iMac and my Echo Dot, and sound good, of course.

I tried a competitor product before getting the Ai40s. I did not like the competitor's offering and returned them.

I kept hearing about the Fluance Ai40 and how fantastic they were. I read several reviews and watched a couple of YouTube reviews that all raved about these things. So, I went ahead and purchased – I went with Ai40W. I actually wasn't expecting much as they were cheaper than the setup that I previously auditioned. I got the Fluance's quickly (Prime) and hooked them up immediately. My first impression: I was blown away. I could not believe the sound that they produced. Truly sublime! They are bigger than I originally wanted, but the sound is so warm and full that I threw the minimalist requirement out the window – good riddance. The highs are clear and I now hear details that I hadn't noticed before. The mids and lows compliment the sound and combine with the highs to produce the type of soundstage that I was looking for. Again, audiophiles might say that the music is being butchered by DSP. I suppose that's a matter of opinion, and to each his own, but I don't really care, as this is the way I want to listen to music. All of this without a subwoofer. It really is quite amazing….and there's a remote too!

These may not be Studio Monitor or Reference level speakers. Again though, if you've read my preface and requirements, you'll know that's not what I was looking for. Honestly, I cannot believe the value that the Ai40s represent. I would find it very hard to believe that anything else could compete at this price point (even at higher price points). Buy these things, seriously. You won't be disappointed. I'm considering purchasing another pair for my living room and maybe even the garage.

I have to give a huge shout out to Sean in Customer Service. I reached out to Customer Service over chat, as I was getting a hum when my iMac was connected via Aux. We troubleshot a bit – he asked me to try different receptacles on my powerbar and try directly in the wall. Neither worked. He suggested it was the speaker's power adapter and said he'd ship a new one out, no questions asked. Honestly, I was skeptical that the issue would be caused by something like that. I received the replacement power adapter a few days later, swapped out the old one and the hum was gone – problem solved! He even followed up with me to make sure I received the replacement adapter and to ensure that it solved the problem. Thanks Sean! And thank you Fluance! Go Canada!


Christopher V

August 8, 2018

Maryland, United States

My first set of Fluance speakers were the SX-HTB back in 2005. They have never failed to impress, and the Ai40 are no different. The sound that comes from my pair of Ai40's is remarkable, from truly deep bass to lifelike, accurate mids and highs. Add in the fact that I can adjust the bass and treble on the fly via remote, which is important for a bluetooth speaker because let's be honest, the quality of streaming music is hit or miss despite the welcome apt-X codec, and the Ai40's are a steal for twice the price. They also look incredible! I could not be happier.

Daniel

August 3, 2018

Alberta, Canada

I wanted some decent, unobtrusive sound for my kitchen, where I spend a fair bit of time in food prep. The Ai40's were well within my budget and I was hoping for sound reproduction of a quality that was at least clear.
Even out of the box, I knew I'd scored on this purchase. Tight bass, quite a decent midrange and highs of a quality that belie its $250 price point. Simple connectivity to Bluetooth, authoritative volume for a smaller room and with the white face with the wood veneer wrap, they fit the decor quite smartly. Like any speaker, they find their stride after a good warm-up, and they're proving to be even better now that I've got 40-50 hours on them.
I love the simple, euphonic, wireless sound reproduction between my iPhone, Spotify and these speakers.
I consider these powered bookshelves a smokin' deal.

Gabriel B

July 25, 2018

Ontario, Canada

The Ai40 are great set of speakers. I had initially bought the Signature bookshelf speakers but during the installation, moving things around, I broke the receiver. So, I replaced them with the Ai40's [thanks Fluance for making this a smooth transition]. Really happy with them. They flexibility they offer makes you appreciate them fast with the bluetooth and remote control... And with an amazing sound with my turntable to back it up... I think I traded up by accident...