Ai60 High Performance Powered 6.5" Bookshelf Speakers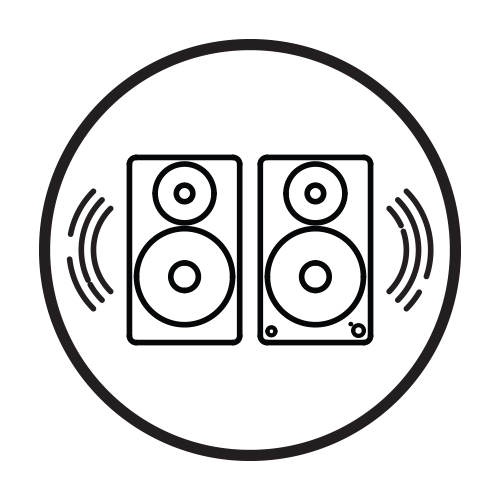 RAW POWER MEETS SUBLIME SOUND
Experience true stereo sound with these high performance active bookshelf speakers with an integrated 100W Class D amplifier designed to deliver a crisp, deep and accurate response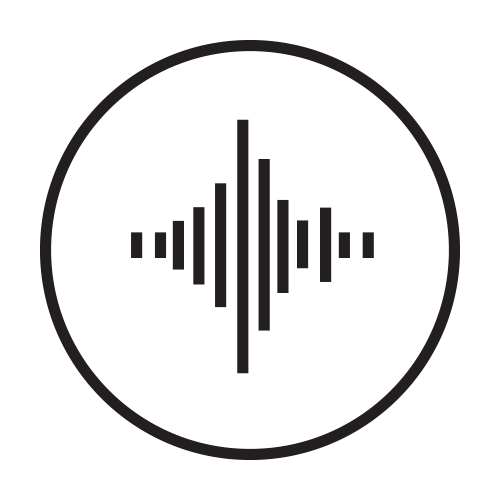 TRUE AUDIO VERSATILITY
Level-up any sound system in your home including your turntable, TV, computer, or Bluetooth speakers to experience unparalleled sound in any set-up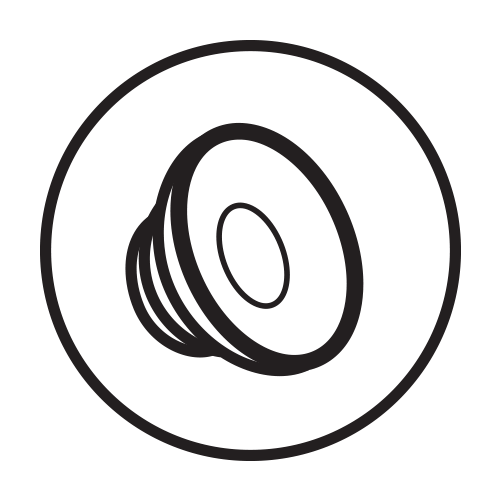 PREMIUM COMPONENTS
Meticulously developed with 1" silk dome tweeters and 6.5" woven drivers producing stunning highs, balanced mids, and powerful rich bass

PRECISION-CRAFTED WOOD CABINETS
Hand-built with engineered wood, creating a warm, distortion-free sound for exquisite audio reproduction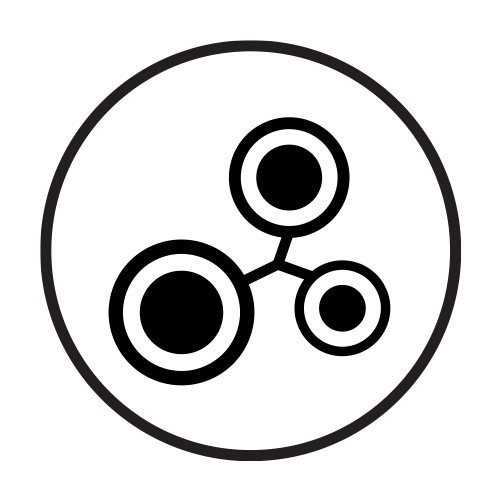 ULTIMATE MUSIC CONNECTIVITY
Pair these feature-rich speakers to any source through Bluetooth aptX, RCA/Aux, Optical, PC/MAC USB, and add more bass with the subwoofer output… if you dare
Overview
RAW POWER MEETS SUBLIME SOUND
Specifications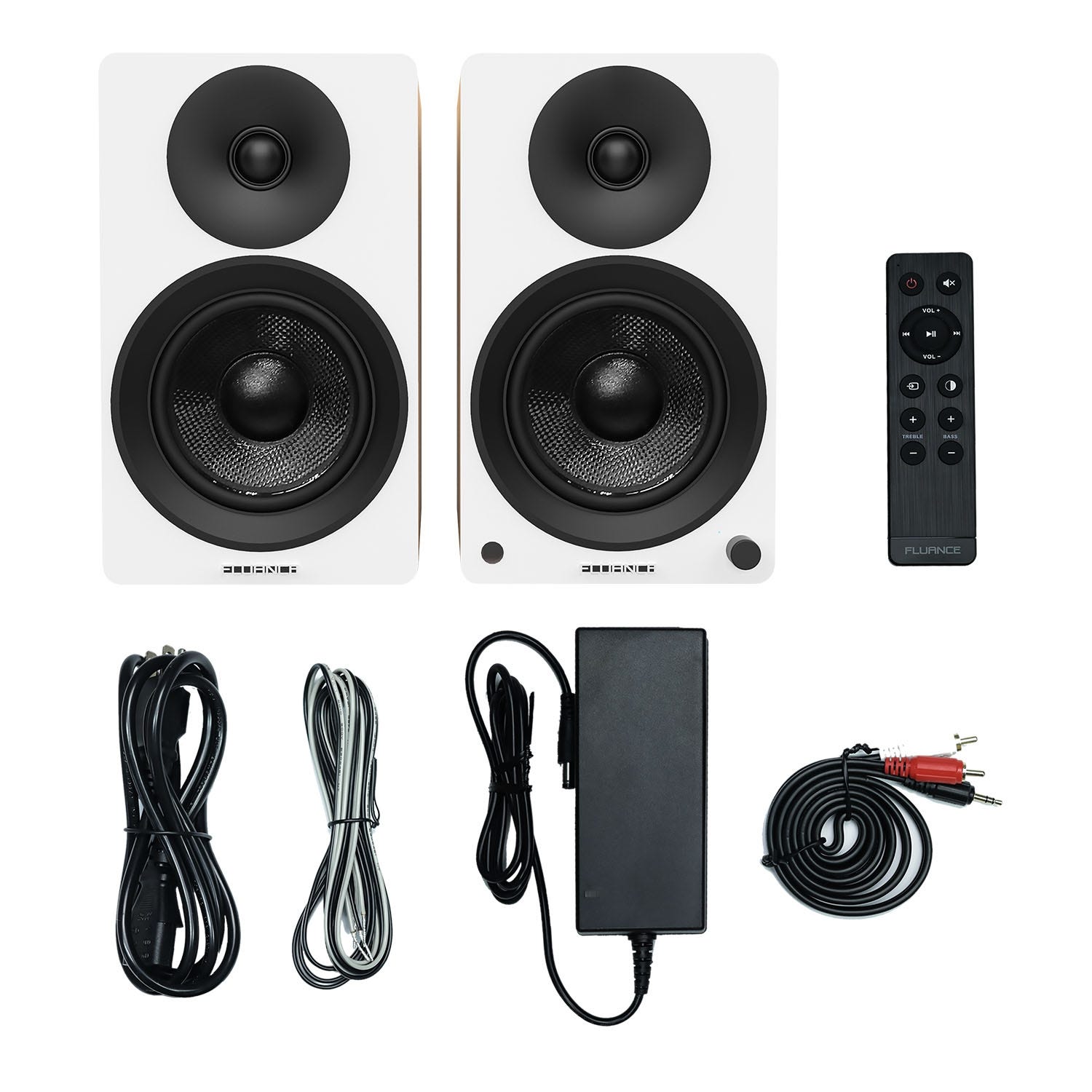 Speaker Configuration
2 Way – 2 Driver Powered Bookshelf Speaker System with Integrated Amplifier (Pair – 1x Active 1x Passive)
Bluetooth
Yes; aptX Codec
Inputs
RCA L/R, Digital Toslink Optical, Micro USB
Tweeter
1 inch Silk Soft Dome Ferrofluid Cooled
Woofer
6.5 inch Woven, Glass Fiber Composite Drivers with Butyl Rubber Surrounds
Amplifier Power
Class D 100 Watts Continuous Average Output (2x 50 watts)
Frequency Response
35Hz – 20KHz (DSP Virtual Sound)
Internal Lead Wire
18 gauge Internal Lead Wire to Reduce Signal Degradation
Power
Input: 100-240V; Output: 24V 3.0A
Crossover Frequency
2600Hz Phase Coherent – PCB Mounted Circuitry
Enclosure
Acoustic Suspension Design
Dimensions
13.1 x 7.8 x 9.2 inches / 33.3 x 19.8 x 23.4 cm (HxWxD)
Speaker Weight
29.3 lbs
Speaker Type
Bookshelf
Certifications
ICES, FCC Certified, ETL/CETL
Subwoofer Output
Yes
Total Harmonic Distortion (THD)
<0.3%
WiFi Casting
Pairs via Bluetooth with Google Home, Amazon Echo and AppleTV (Ai60 is not a WiFi speaker)
Frequency Response Graph

Click to Expand

Fluance Speaker Size Comparison Chart

UPC
871363024824
What's Included

Ai60 Speaker Line Out

Click to Expand

Fluance Ai60 Powered Bookshelf Speakers (pair)
Remote Control
2x AAA Batteries
100-240V Power Adapter
8ft 18 Gauge Speaker Wire
3ft 3.5mm Aux to RCA Cable
Quick Start Guide
Fluance Catalog
Lifetime Customer Support
2 Year Manufacturer's Warranty
Pro Reviews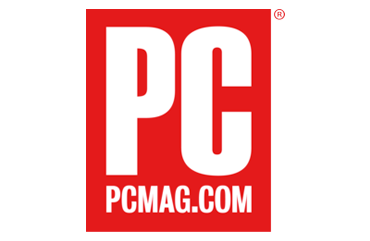 PC Mag Reviews the Ai60 Bookshelf Speakers
"The Ai60 speakers can get exceptionally loud, and on tracks with intense sub-bass content... the drivers deliver powerful bass response."

Read Full Review



The Soundbar Annihilator - Review by Joe N Tell
"This thing can actually play down to 35 Hz and at significantly loud volumes - that is a huge surprise"


Customer Reviews
BruceS

November 20, 2019

Advanced Listener - 20+ Years

Massachusetts, United States

I am around 6 months with the Ai60. Before buying, I considered, among others, the Audioengine A5, Kanto YU6, and the Ai60. Settled on the Ai60. Like to note right now that I'm using the Ai60's optical audio input, exclusively. Source is supplied from iTunes on a MacBook Pro that has an optical out port. Music files are ALAC, AAC, and a few MP3s. I also listen to Internet radio a lot. I needed to downsize, and did so from a full-size rig (integrated amp, speakers with sub, various sources). It would be fair to describe the former gear as budget audiophile or better. so I was concerned about sound quality. I bought in early June and have been listening since. Although I deliberately set out to find things I did not like, that was tough—the Ai60s met or exceeded my expectations. One thing they don't do is give you a lot of "feel" of deep bass. You can certainly hear the bass, which does go deep, but you do not feel it as you would with a good sub. A sub is not part of my current picture, so that is what it is. Due to the DSP deployed, the speakers can sound...well, loud...not a bad thing at all! The remote's volume control isn't in fine gradations. The speakers have a good amount of detailed sound, are attractive, and appear to be well-built. It's worth noting that the Ai60's are sensitive to quality of the source material. If it's not that great, what you'll get is not that great, and in painful detail. But with decent source, you're good to go! No issues at all with hissing or other noise for me. I did test with Bluetooth, which works, but it's not what I'd use with these or any other speakers for optimal sound quality. It's optical in for me. After 6 months of listening, I'm happy with these guys. No, they are not at an audiophile level, but they are quite nice and offer much bang for the buck.

BruceS

4

Wayne S

October 8, 2019

Intermediate Listener

Ontario, Canada

Excellent sound, great value! I'm using these as PC speakers for music and gaming in my home office. The entire range of sound is excellent, and the bass is solid. I definitely don't plan to add a sub, but that might be an option in a larger room. Slight hiss from tweeters regardless of input source but I only notice when I'm leaning in close. I primarily use optical out from my PC, and occasionally bluetooth from my phone. Both sound incredible!

Wayne S

5

Jin P.

September 12, 2019

Novice Listener - 5 Years

California, United States

Very good sound and amazing craftsmanship. The only reason I would not give them 5 stars is that the customer service was poor and a bit rude.

Jin P.

4

Jim S

September 9, 2019

Advanced Listener - 20+ Years

Texas, United States

I bought the Ai60 speakers as an upgrade over my Edifier R1280DB speakers. I have them matched to my Fluance RT80 turntable and I could not be more pleased. The Ai60 speakers perform well above their cost. The sound is clean at loud levels and the highs and lows are nicely reproduced. The remote control is fantastic! I love that I can adjust the bass and treble from the remote. My vinyl sounds fantastic! And football games, WOW! I will probably add the sub at a later date, but I think the speakers sound great, even without a sub.

Jim S

5

Kevin W

September 2, 2019

Intermediate Listener - 20+ Years

Ontario, Canada

Very good sound, excellent low end. Build quality is very good.
In comparison to Kanto YU 60, the sound range is better and connectivity is nearly as good. Slight buzz on bluetooth but turn down the monitors and turn up the source and it's acceptable. I have already recommended these speakers to friends.

Kevin W

4

Nick G

August 30, 2019

Novice Listener - 2 Years

Florida, United States

These speakers sound amazing for $300. I returned another set of powered speakers after hearing these. The amount of bass these put out greatly surpassed my previous speakers. So far I haven't felt the need to plug in my sub. I've been using them as speakers for playing music via Alexa and my turntable. I would have liked it to have an "auto on" feature but it's not a dealbreaker.

Nick G

5

Andrew H

August 29, 2019

Intermediate Listener - 1 Year

New Jersey, United States

Before I bought this I had an expensive sound beam and it sounded great. It was very clear but the bass was lacking. These speakers were perfect. Especially for the music I listen to like EDM. The lows are awesome and the bass adds what I'm looking for. If you want good all around sound then these are it. No $600 subwoofer needed.

Andrew H

5

Andrew K

August 21, 2019

Advanced Listener - 20+ Years

New York, United States

I can't believe how good these sound. The sound quality is excellent. I thought I would need to augment these with a sub woofer, but I don't see the need. And the connectivity options make these the only speakers I need: I have these paired with my RT82 turntable via speaker wire, to my TV via optical cable, and then I can stream from all my devices to bluetooth. The build quality is top notch — these are hefty speakers. They are also beautiful. I chose the natural walnut with the white fronts and they add they have an elegant appearance that adds to the rooms decor.

I highly recommend the Ai60.

Andrew K

5

Bill

July 30, 2019

Audiophile - 20+ Years

Missouri, United States

I have bought many pieces over time to build up my home theater system. I could not be more impressed with both the quality of the finish materials and the audio reference. My only wish is they expand their product line!

Bill

5

Cabot S

June 24, 2019

Audiophile - 1 Year

Utah, United States

These speakers are awesome! 300 dollars for a set of speakers that sounds great after breaking them in for around 70 hours. When I first opened the box I had the issue with them of when I hit a bass heavy spot the speakers would muffle. I talked with Fluance and worked through this with help from Sean and their team. They were great, timely and I ultimately decided to through 70 hours on them and see how they sounded. The issue went away then I changed the speaker cable and the overall quality did improve a little more. These speakers have pretty good bass, I will get the sub eventually (you always need more bass). Overall, these speakers are loud, clear, has good bass and if an issue does a rise Fluance stands by their products and offers to replace them.

Cabot S

5

Bowers

June 23, 2019

Intermediate Listener - 20+ Years

Ontario, Canada

Ridiculous! The Ai40s are fantastic and these are better. More bass, obvious with a larger driver but cleaner, clearer high end as well. Great imaging too. Impressive kit is becoming a trend with this company. And from my country too!

Bowers

5

IsmaelG

June 20, 2019

Advanced Listener - 20+ Years

Virginia, United States

Big sound out of a little box

IsmaelG

5

Kurt K

June 19, 2019

Audiophile - 20+ Years

Michigan, United States

Give these babies a little time to break in and you won't be disappointed. From a small full range speaker perspective these have no problem filling a normal room with crisp clean sound. I am using mine with an RT81 turntable set up with a 2M Red stylus and couldn't be happier. On a side note, I have a 7.1 home theater set up, all Fluance and it too is a stellar performer! At any price point, Fluance is a rock solid product!

Kurt K

5

Osmel M.

June 17, 2019

Audiophile - 20+ Years

Florida, United States

Hello, very happy for the sound that this speaker has, I thought that being a sealed speaker the bass would not be felt in the lower frequencies, but they have a very good presence in the lower frequencies, being able to hear the sounds that in other speakers are not it could be heard. Very good work (DSP Virtual Sound) that takes a very high step in its range, they are very heavy and say a lot about the quality of their construction, the sound is very warm and relaxed in the high and medium frequency sounds. Tickets for all kinds of use as aptx bluetooth for wireless use, I recommend it a lot

Osmel M.

5

Robert

June 16, 2019

Intermediate Listener - 20+ Years

Texas, United States

These powered speakers are truly amazing, I ditched my sound bar and purchased these along with the 12" subwoofer. I was blown away from the sound quality of these, completely satisfied and impressed.

See all reviews

Robert

5
Resources
Guides
Manual
FAQs
What's the difference between the Ai40 and Ai60? ▼
Model
Ai40
Ai60
Drivers
1" Tweeter,
5" Woofer
1" Tweeter
6.5" Woofer
Frequency Response
40Hz – 20KHz
(DSP Virtual Sound Perceived by Ear)
35Hz – 20KHz
(DSP Virtual Sound Perceived by Ear)
Connections (Input)
RCA L/R (Aux to RCA cable included)
RCA L/R (Aux to RCA cable included) Toslink Optical
Micro USB
Size HxLxW
10.9" x 6.5" x 7.6"
13.1" x 7.8" x 9.2"
Weight
15.1 lbs
29.3 lbs
Amplifier
Class D 70 Watts Continuous Average Output (2x 35 watts)
Class D 100 Watts Continuous Average Output (2x 50 watts)
Sub Out
No
Yes
What can I connect to Ai60? ▼
Ai60 includes inputs for USB audio from a computer, Toslink Optical for connection to a TV and RCA L/R (3.5mm Aux to RCA cable included).
Some devices you can connect are:
- Turntables
- Smartphones and MP3 Players
- Laptops or Desktop computers
- Game Consoles
- Televisions
Can I connect a subwoofer to Ai60? ▼

Yes! One of the most common requests after the launch of Ai40 was a Sub Out connection. This has been included on the Ai60 which matches up great with the Fluance DB10!
 
Do I need an amp or receiver with Ai60? ▼

Absolutely not! The Ai60 Powered Bookshelf Speakers are powered by a 100-Watt amplifier built into the right speaker, this provides power to the left speaker through the included 18 gauge speaker wire!
 
Can I connect Ai60 speakers to my TV? ▼

Yes! Using the Toslink Optical connection, you can connect your TV directly to your Ai60 Speakers! When using the speakers this way, it will be important to set you TV audio output to PCM or Stereo as Ai60 does not support Dolby or surround options.


Does Ai60 have a preamp for my turntable? ▼

While the Ai60 does not include an internal preamp for use with a turntable, those with built-in preamps such as the Classic (RT80) and Elite (RT81) will not require additional equipment to be played over the Ai60 speakers.
To maintain the cleanest signal path, the Reference Series (RT82 to RT85) will require an external preamp.

 
Articles from our experts