Overview

PREMIUM FEATURES
Premium components allow this high fidelity belt driven turntable to produce a pure analog listening experience that recreates the performance the way the artist intended
High performance AT95E Audio Technica cartridge produces outstanding clarity. The diamond elliptical tipped stylus is designed to track your record grooves with greater precision & accuracy for high definition audio
Perfect playback using the balanced aluminum S-Type tonearm ensures the stylus is rested deep in your record's groove, producing every audio detail indistinguishable from the original recording
The beautiful walnut finished cabinet is crafted from solid engineered (MDF) wood, incorporates isolation feet, an aluminum platter, & a rubber slip mat which results in superior isolation from unwanted vibrations
Captivating signal clarity is produced with a high quality Texas Instruments preamp, gold plated RCA line outputs, and a ground terminal that ensure warm, true sound

RT81 HiFi Turntable
Fluance's RT81 High Fidelity Turntable plays traditional LP and EP vinyl records with stunning quality that achieves the purest sound reproduction. When you want the absolute best in music performance, pull out your favorite 33 1/3 or 45 RPM records, hook up your sound system, drop the needle, and immerse yourself in the Fluance RT81 Record Player. Your soul will be captivated by the crisp, distinguishing characteristics of the music you love. Premium components allow this belt driven turntable to produce a pure uncompressed listening experience that recreates the performance the way the artist intended.

Superior Stylus Makes for a Pure Analog Listening Experience
Your music will sound richer when the Audio Technica AT95E stylus rests in the grooves of your favorite vinyl record at a mere 2.0 grams of tracking force. The upgraded elliptical diamond stylus is renowned for its freedom from noise and distortion, clarity on musical peaks, and channel balance.

Complete Clarity Without Compromising Your Collection
You'll savor every note thanks to the balanced and adjustable counterweight of the S-Type tonearm. The fluid movement of the bearings within the tonearm coupled with the advanced anti-skating system practically caresses your record, preventing scratching and ensuring the stylus is perfectly rested deep in your record's groove while splendidly coaxing the music out of your vinyl.

Designed for Serious Performance
The walnut finished cabinet is crafted from solid engineered (MDF) wood which reduces vibrations to ensure the stylus provides the best possible signal. Sound isolation feet, an aluminum platter and a rubber slip mat significantly reduce reverberation, leaving you with pure stereophonic sound.

Premium Components
Captivating signal clarity is produced with a high quality Texas Instruments preamp, ground terminal and gold plated RCA line outputs that ensures high fidelity sound in its truest form.
Specifications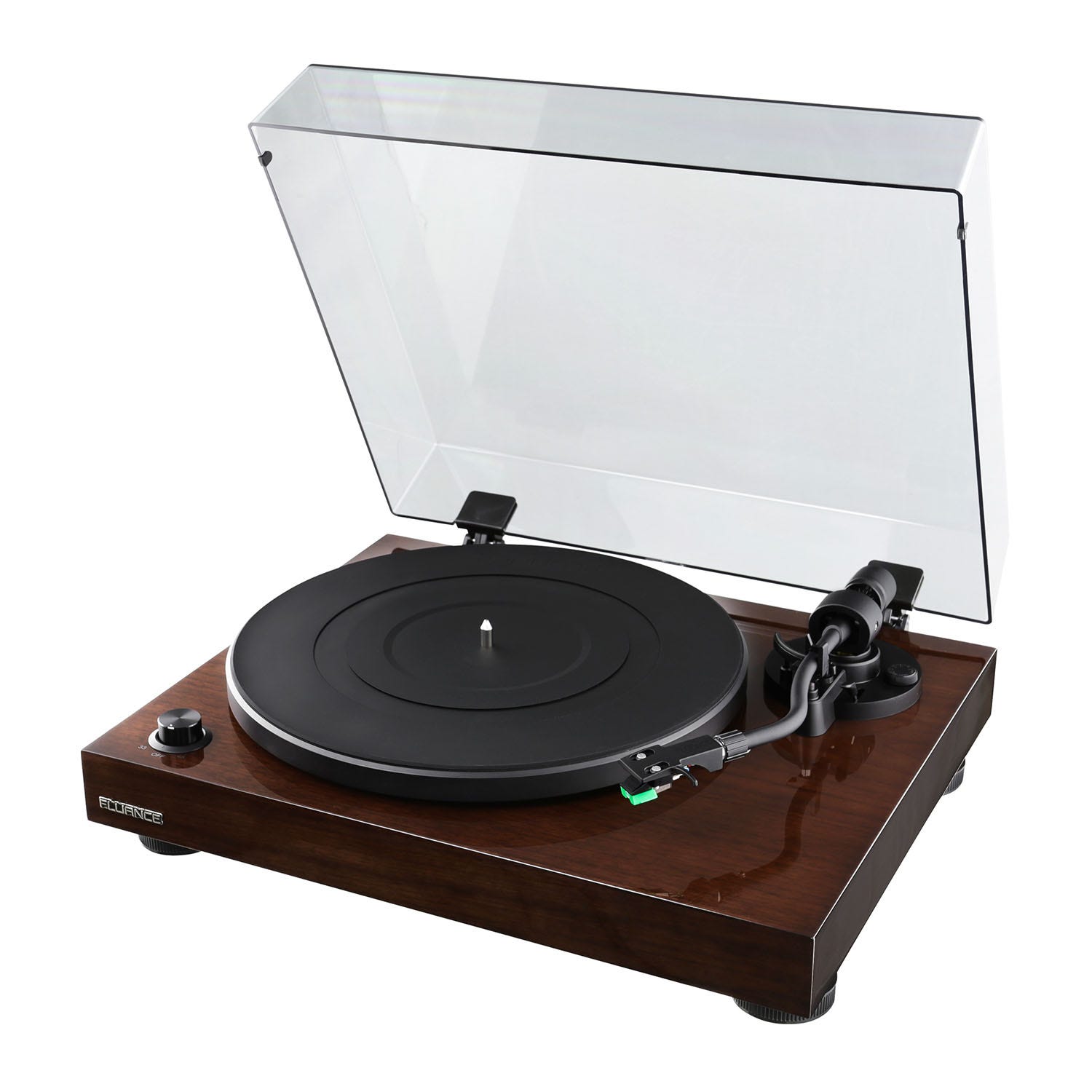 Cabinet Specifications
▼
Cabinet Material
MDF
Finish
High Gloss Walnut Real Wood Veneer
Dust Cover
Yes - Tinted
Turntable Specifications
▼
Drive System
Belt Drive
Motor
DC Motor with Three Point Rubber Isolation
Speed
33 1/3 RPM, 45 RPM
Speed Variation
+/-1.00% - Speed Adjustment Guide
Wow and Flutter
0.2%
Signal-to-Noise Ratio (Weighted)
67dB or higher (A-weighted, 20kHz LPF)
Signal-to-Noise Ratio (Unweighted)
60dB or higher (unweighted, 20kHz LPF)
Platter
Aluminum
Diameter of Platter
12", 30cm
Auto-Stop
Yes
Turntable Mat
Rubber
Tonearm Specifications
▼
Tonearm Type
Static Balanced, S-Type
Supported Cartridge Weight
3.5 to 6.5g
Anti-skating Adjustment
Yes
Pivot Bearing
Yes
Tonearm Material
Aluminum
Tonearm Wire
36 AWG Litz Cable / 7 Strand
Effective Tonearm Mass
28.2 grams
Overhang
19.2mm
Effective Tonearm Length
224mm
Headshell Mount
H-4 Bayonet Mount
Cartridge Specifications
▼
Cartridge Type
Dual Moving Magnet (MM)
Catridge Model
Audio Technica: AT95E
Replacement Stylus
ATN95E
Stylus
0.4 × 0.7mil Bonded Elliptical (Diamond)
Cantilever
Aluminum
Mount
Half inch
Frequency Response
20-20,000Hz
Channel Separation
20dB at 1kHz
Channel Balance
2.0dB or less at 1kHz
Load Impedance/Capacitance
47k Ohms/100pF
Output Voltage
2.5mV +/–3dB
Cartridge Weight
5.7g (+/- 0.5g)
Headshell Weight
10.7g
Recommended Tracking Force
2.0g +/–0.5g
Vertical Tracking Angle
20 degrees
Rubber Belt Specifications
▼
Width
4.5mm
Length
534.07mm
Thickness
0.6mm
Output Specifications
▼
Connector
RCA (Gold-plated)
Preamp
Yes, PHONO/LINE Switchable
Phono Output
2.5mV +/–3dB
Phono Bypass
Yes, all electronics bypassed when using external preamp
Line Output
140mV (–17dBV)
Ground Terminal
Yes
Power Specification
▼
Input
100V - 240V AC (50/60Hz)
Output
12V / 500mA
Consumption
1.5W
General Specifications
▼
Dimensions
16.5" x 5.5" x 13.75"
Certifications
FCC Certified, CE Certified, RoHS, CUL/UL
Unit Weight
6.4 kg or 14.1 lbs
Optimal Operating Temperature
20°C
Fluance Speaker Size Comparison Chart

UPC
061783264362
What's Included
RT81 Turntable
Dust Cover
45 Adapter
Rubber Slip Mat
3ft RCA Cable With Ground Wire
100V - 240V (50/60Hz) AC Power Adapter
User Manual
Lifetime Customer Support
2 Year Manufacturer's Warranty
Customer Reviews
Tina G

October 17, 2018

Intermediate Listener - 5 Years

Florida, United States

Sounds incredible and the look is chic and modern. Highly recommend

Raul Chavez

October 15, 2018

Audiophile - 20+ Years

California, United States

It's everything I was hoping for. Made of high quality and very easy to set up. It's perform better flawlessly. The RT81 turned out to be turntable is perfect! Except for one thing. Please Fluance people make a receiver that'll go with the turntable & speakers. One with a the cool retro feel just like the RT81. Like those old retro receivers that have a metal face plate with knobs and switches/buttons. I've got the turntable, I've got the speakers now I need the receiver to complete the set.

Daisy R

October 13, 2018

Novice Listener - 1 Year

California, United States

I've had the turntable for a little over a week and used it every day since. No problems so far.

Zac, O

October 2, 2018

Novice Listener - 1 Year

Ontario, Canada

Sounds good

Robert S.

October 2, 2018

Intermediate Listener - 1 Year

Massachusetts, United States

I did a lot of research before buying the RT81 turntable.
The rubber mat is high quality, the base is solid and heavy.
The turntable just overall looks fantastic.
Sounds great. A really nice turntable at a great price.
I love it!

Greg H

September 27, 2018

Intermediate Listener - 20+ Years

Ontario, Canada

Beautiful looking, well crafted.

Don S.

September 27, 2018

Audiophile - 20+ Years

California, United States

Very happy with my turntable and the service I got from Fluance. Set-up was easy and the YouTube video illustrating how to balance the tonearm was very helpful. The only issue I have is that the lettering/graphics on the turntable are hard to read. The gray lettering used does not contrast enough with the rosewood base making it almost impossible to see. Other than that, the turntable has met all of my expextations.

Ramesh D

September 26, 2018

Intermediate Listener - 20+ Years

North Carolina, United States

I'm very happy with my RT81 purchase. The turntable arrived safely and securely packaged with no damage. It's beautiful to look at and looks great in my living room.

More importantly it sounds wonderful! I had intended to swap in my Ortofon Red cartridge but the included Audio-Technica cartridge sounds fantastic so I'm holding off on that and very happy I went with the RT81 over the RT80.

The included phono stage also sounds better than my Rotel RA-12's built-in phono stage and I'm very pleased with the sound.

Teddy VW

September 22, 2018

Advanced Listener - 10 Years

Iowa, United States

For the price, there really isn't much better. Assembling the turntable was a fantastic experience, extremely easy and felt well designed. My only complaint was that it arrived in three boxes (one inside of the other, inside of the last), but that's pretty minor. Aesthetics are fantastic, too. Just make sure that if you're pairing it with a wooden stand/component rack that the finish matches.

Xiaowang

September 22, 2018

Novice Listener - 20+ Years

Texas, United States

I chose Fluance's RT81 high-fidelity turntable to meet my needs for playing traditional LP and EP vinyl records on the grounds that:
1. I like classical and lyrical music. The design and configuration of RT81 is suitable for this kind of demand. The belt drive is stable and quiet, which guarantees the restoration of pure sound quality.
2.Audio Technica AT95E stylus RT81 is another perfect choice, AT95E plays more music, its oval stylus minimizes noise and distortion, so that music clarity and channel balance can be guaranteed;
3. More like the S-shaped arm of the RT81.
I will connect to my Marantz sound system so that the RT81 has a better performance. I will write my experience and share it with you.
Many thanks to Mr. Sean for giving guidance and help during my purchase of RT81!

Tam, M

September 16, 2018

Novice Listener - 2 Years

Virginia, United States

I love the Fluance RT81. It's beautiful with the walnut finish. The design is clean and very high quality. It's also very quiet.

Kelly H

September 11, 2018

Intermediate Listener - 15 Years

Arizona, United States

I love this turntable, it was so easy to setup and has performed flawlessly every time I have used it. I can't recommend it or Fluance in general enough!!

Ron A

September 8, 2018

Audiophile - 20+ Years

Florida, United States

The Fluance RT81 turntable Is my first turntable as an adult and I must say that I'm very impressed. Starting with the packaging, it arrived at my door secure and undamaged. The construction materials are top notch which is revealed with the sound quality. The setup process is user friendly. I highly recommend the RT81.

Scott J

September 7, 2018

Texas, United States

This turntable exceeded my expectations. It is well constructed and records sound amazing. I highly recommend!

Phil

August 31, 2018

British Columbia, Canada

Great record player, I really like the look of the wood. I'm not an audiophile, but this was a greta upgrade from my very entry level record player I had prior. The audio quality is amazing, really glad that I picked this up!

See all reviews
Resources
FAQs
Does this turntable have built in speakers?
Fluance turntables do not include built in speakers.
To use a Fluance turntable, connect it to a home theater receiver or amplifier for use with passive speakers, or connect it to a set of powered speakers such as the Ai40 Powered Bookshelf Speakers.
If your receiver or speakers do not have a specific PHONO input or integrated preamp, RT80 and RT81 both include an internal preamp for quick and easy setup.
Do I need an amplifier for this turntable?
An amplifier is only needed if you're connecting the turntable to passive speakers such as the Signature Series Bookshelf Surround Speakers.
If you're looking for an option without a separate amplifier, the Ai40 Powered Bookshelf speakers fit the bill.
With the Ai40, all you need to do is connect the included RCA cables to the speakers, turn on the internal pre-amp and you're ready to listen to the music the way it was meant to be heard.
When do I use the turntable's built in preamp?
If you're using an amplifier without a phono input, or some powered speakers such as our Ai40 model, you will need to use the preamp by sliding the switch to the "LINE" position.
Can I install a different cartridge on this turntable?
The tonearm of the RT80 and RT81 model turntables is compatible with cartridges from 3.5 grams to 6.5 grams in weight.
For full instructions on this process, see our video below: