RT81 High Fidelity Vinyl Turntable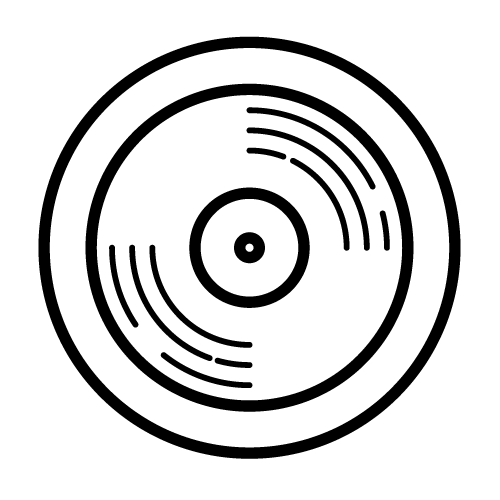 PURE ANALOG LISTENING EXPERIENCE
- Premium components allow this high fidelity belt driven turntable to recreate the performance the way the artist intended

HIGH PERFORMANCE CARTRIDGE
The Audio Technica AT95E featuring a diamond elliptical tipped stylus is designed to track your record grooves with greater precision & accuracy for high definition audio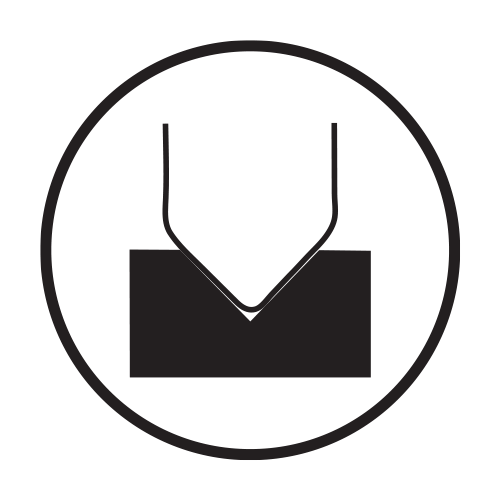 SUPERIOR RECORD TRACKING
Enjoy perfect playback using the balanced aluminum S-Type tonearm ensuring the stylus is rested deep in your record's groove, producing every audio detail indistinguishable from the original recording

SOLID WOOD PLINTH
The beautiful piano black finished cabinet is crafted from solid engineered (MDF) wood, incorporates isolation feet, an aluminum platter and a rubber slip mat which results in superior isolation from unwanted vibrations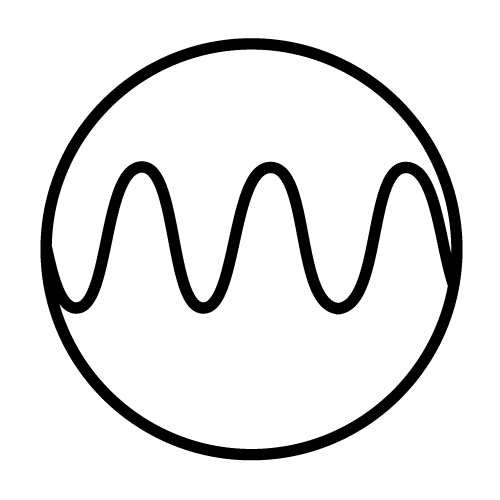 CAPTIVATING SIGNAL CLARITY
Incorporating a high quality built-in Texas Instruments preamp, ground terminal and gold plated RCA line outputs that ensures warm, true sound
Overview
UNPARALLELED VINYL MUSIC PLAYBACK
Specifications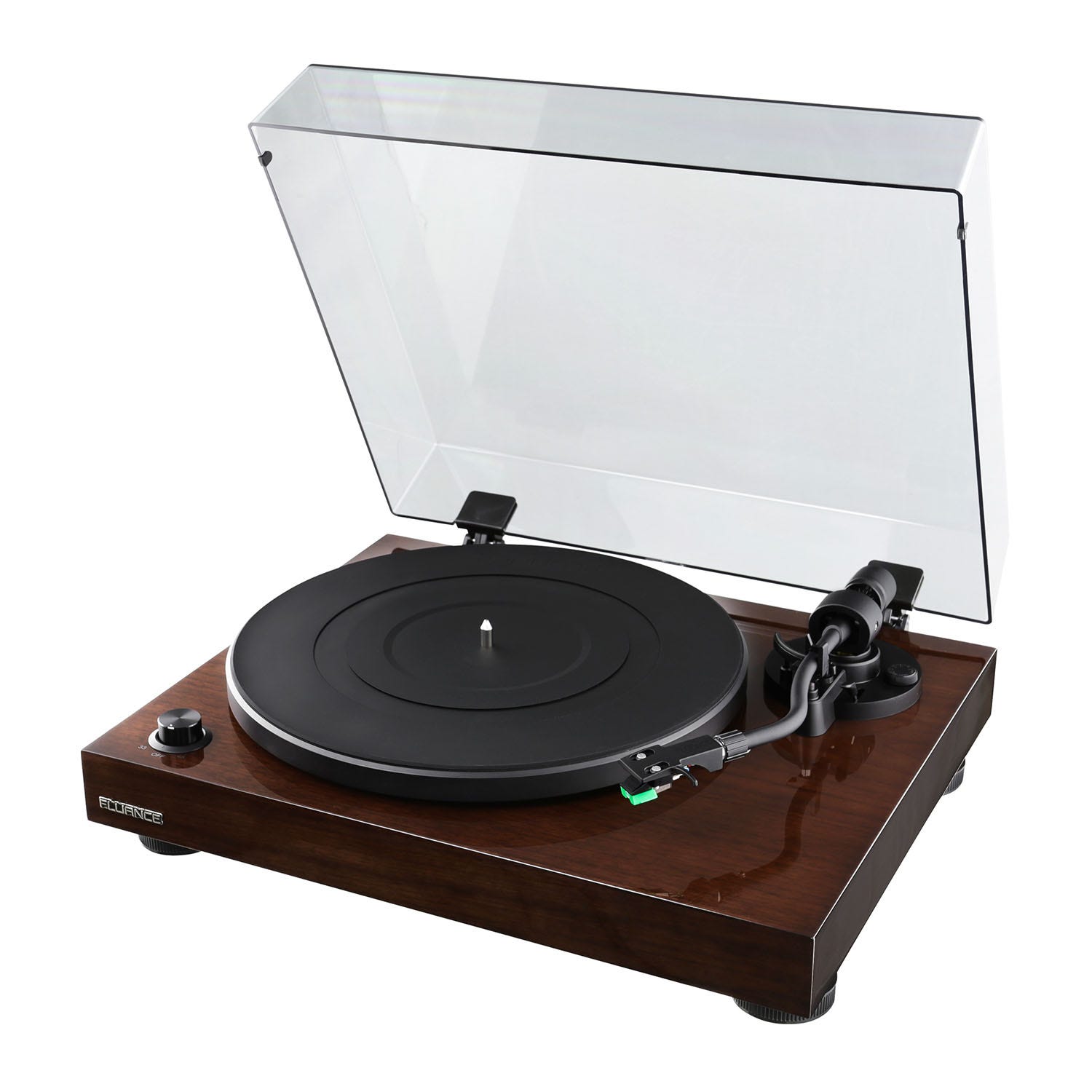 Cabinet Specifications
▼
Cabinet Material
MDF
Finish
High Gloss Walnut Real Wood Veneer
Dust Cover
Yes - Tinted
Turntable Specifications
▼
Drive System
Belt Drive
Motor
DC Motor
Motor Isolation
Three Point Rubber Isolation
Speed
33 1/3 RPM, 45 RPM
Speed Variation
+/-1.00% - Speed Adjustment Guide
Wow and Flutter
0.2%
Signal-to-Noise Ratio (Weighted)
67dB or higher (A-weighted, 20kHz LPF)
Signal-to-Noise Ratio (Unweighted)
60dB or higher (unweighted, 20kHz LPF)
Platter
Aluminum
Diameter of Platter
12", 30cm
Weight of Platter
1.22 lbs (553 g)
Height of Platter
0.62 inches (16 mm)
Auto-Stop
Yes
Turntable Mat
Rubber
Tonearm Specifications
▼
Tonearm Type
Static Balanced, S-Type
Supported Cartridge Weight
3.5 to 6.5g
Counterweight
Yes – 3.53 oz (100 g) - Adjustable
Anti-skating Adjustment
Yes
Pivot Bearing
Yes
Cueing Lever
Yes
Tonearm Material
Aluminum
Tonearm Wire
36 AWG Litz Cable / 7 Strand
Effective Tonearm Mass
28.2 grams
Overhang
19.2mm
Effective Tonearm Length
224mm
Headshell Mount
H-4 Bayonet Mount
Tonearm Height
17mm
Cartridge Specifications
▼
Cartridge Type
Dual Moving Magnet (MM)
Cartridge Model
Audio Technica: AT95E
Replacement Stylus
ATN95E
Stylus
0.4 × 0.7mil Bonded Elliptical (Diamond)
Cantilever
Aluminum
Mount
Half inch
Frequency Response
20-20,000Hz
Channel Separation
20dB at 1kHz
Channel Balance
2.0dB or less at 1kHz
Load Impedance/Capacitance
47k Ohms/100pF
Output Voltage
2.5mV +/–3dB
Cartridge Weight
5.7g (+/- 0.5g)
Headshell Weight
10.7g
Cartridge Height
0.67 inches (17 mm)
Recommended Tracking Force
2.0g +/–0.5g
Vertical Tracking Angle
20 degrees
Rubber Belt Specifications
▼
Rubber Belt Design
Continuous loop (joint-less)
Width
4.5mm
Length
534.07mm
Thickness
0.6mm
Output Specifications
▼
Connector
RCA (Gold-plated)
Preamp
Yes, PHONO/LINE Switchable
Phono Output
2.5mV +/–3dB
Phono Bypass
Yes, all electronics bypassed when using external preamp
Line Output
140mV (–17dBV)
Ground Terminal
Yes
Power Specification
▼
Input
100V - 240V AC (50/60Hz)
Output
12V / 500mA
Consumption
1.5W
General Specifications
▼
Dimensions
16.5" x 5.5" x 13.75"
Certifications
FCC Certified, RoHS, CUL/UL
Unit Weight
14.1 lb (6.4 kg)
Operating Temperature
20°C
Wireless Playback
No (Requires Bluetooth or WiFi transmitter connected via RCA connection to transmit audio wirelessly)
Fluance Speaker Size Comparison Chart

UPC
061783264362
What's Included
RT81 Turntable
Dust Cover
45 Adapter
Rubber Slip Mat
3ft RCA Cable With Ground Wire
100V - 240V (50/60Hz) AC Power Adapter
User Manual
Lifetime Customer Support
2 Year Manufacturer's Warranty
Pro Reviews
Slash Gear Reviews the Fluance RT81 HiFi Turntable
"Playback from the RT81 was quite good, with even the deeper bass of hip-hop and some electronic music coming through smooth and clear. "
Read the Full Review
CNET Reviews the Fluance RT81 HiFi Turntable
"it feels like a $400-$500 turntable. I guess you can tell by now I'm impressed."
Read the Full Review
Tech Crunch Reviews the Fluance RT81 HiFi Turntable
"The walnut finish gives the RT81 one of the best looks of any entry-level turntable I've seen. It's sturdier and heavier than some of the cheaper turntables out there from brands like Crosley and Denon. "
Read the Full Review
Customer Reviews
Karl H

September 7, 2019

Advanced Listener - 20+ Years

Ontario, Canada

I purchased the walnut finish version of this turntable. It is one solid good looking turntable. The walnut finish has a real nice vintage feel to it, and is a nice match to my old vintage (70's) Yamaha receiver, which for me was one of it's selling points. The first thing you'll notice when unpacking this is how heavy it is. A very solid build, although not all real wood, it's heavy duty !

Set up was very easy, and the instructions provided are clear and concise. After setting the tonearm balance and tracking force to 2 grams using the counterweight scale as per the instructions, I checked it with a stylus force gauge which measured 2.5 grams. I backed it off a little closer to 2 grams using the gauge as my final reference. Stylus alignment for me was bang on out of the box. This turntable does not feature a built-in strobe for checking speed, but using a turntable RPM app on my my phone, the 45 and 33-1/3 speeds were bang on, right out of the box. Speed adjustments are on the bottom, which is a little inconvenient. A built in strobe with topside adjustment would have been nice for when I might need to adjust it. I have an old turntable where the platter strobe scale is on the bottom side of the platter with a small window on the topside of the turntable. A mirror in the turntable body below the window allows for viewing, which is a very elegant non-intrusive design.

Using the phono out to a receiver, this turntable sounds great with the provided Audio Technica ATN95E stylus cartridge. Upgrading to another stylus (or whole cartridge) would be an easy option for down the road if you wanted to try and improve on the sound for your personal taste. One reason I got this was for a high quality product to transfer some vinyl into my computer. I used the internal pre-amp output to the computer's audio-in, and noticed when sampling that the waveform showed a sort of dampened/limited amplitude effect for the negative swing of the waveform. Using the phono out to a receiver pre-amp, then into the computer didn't exhibit this. So perhaps the pre-amp could be better, as others have suggested. Although I couldn't really hear the difference (with my aging ears), it just seemed odd. In the end I got a proper sound device for sampling - an ART USB Phono Plus Audiophile Computer Interface. Using the turntable phono out and this interface, the results with sampling into a computer were fantastic - cleaner than the computer sound card. As for using the turntable with a receiver, I would use the receiver pre-amp anyway. The phono interface cable is pretty cheap, but it's the same kind of stuff you get with every stereo device. A thicker gauge wire, heavier shielded cable is an easy upgrade.

The S-shaped tonearm is real nice. I much prefer the look of it to a straight one. The 3-way selector switch for 33-OFF-45 is nice and solid, but I probably would have configured it to an OFF-33-45 design. That way you're not cycling the power every time you change speed - which for me was quite a bit for sampling a number of different records. There is nowhere to really 'store' the 45 adapter, a small circular indent and/or a bit of a spindle like shaft at the back of the turntable body would have been nice. The smoked turntable cover is a nice touch, as opposed to a clear one. The tonearm lever is a bit tight to the tonearm - if you look at other models you can see they have addressed that, so maybe later versions of this one that are produced might incorporate that slight design change?

This turntable does not have any automatic cueing features. Although it would have been nice, it at least has an auto shutoff feature so when the stylus reaches the end of the vinyl lead out groove it won't run on forever. The stylus will sit in the groove with the record not spinning until you lift the tonearm to park it, at which time the turntable will come back to life and spin, unless you turn the power switch off first. The auto shutoff only stops the platter from spinning, the rest of the turntable is still powered, so there is an active audio signal out.

All in all, I am very happy with this turntable. It is solidly built, nothing seems cheap or clunky about the mechanisms. The walnut finish is very nice, and it sounds great. I noticed the price is the same no matter where you look to purchase, so I chose to order directly from the Fluance website to support the company directly, and also where you get free shipping and a $10 discount code pops up. Great value for the money - Highly recomended.


Karl H

4

James J

September 3, 2019

Advanced Listener - 20+ Years

Ontario, Canada

Purchased on Fluance's 20th anniversary celebration. The turntable arrived on time and was exceptionally easy and quick to set up. Love the prealligned cartridge. Ran tests on both speeds and passed with flying colours. This is an excellent entry turntable if you're on a budget. Attached to a Peachtree amp attached to Axiom speakers. Love it the sound.

James J

5

Lauren, P

August 30, 2019

Intermediate Listener - 1 Year

Kentucky, United States

Looks and sounds amazing, I did a lot of research and fluance gave the best quality product for the price. Also the shipping was amazingly fast, no joke!

Lauren, P

5

David M

August 29, 2019

Intermediate Listener - 20+ Years

Alberta, Canada

Great overall turntable. Make sure it's on solid fitting to help eliminate vibration and feedback. Overall look and sound is impressive for the price.

David M

4

Kayleigh K

August 29, 2019

Novice Listener - 3 Years

Minnesota, United States

I wasn't really in the market for a new turntable. I received a really cheap one as a gift a few years back and never really got into the hobby enough to justify upgrading. Then, I bought a $3 record at my local flea market with no visible major defects. After cleaning it, I popped it on my old turntable only to have both of my favorite songs on the record skip horribly. I decided then and there it was time for a serious upgrade. After doing some research, I decided on this Fluance model. It is GORGEOUS in person. I love the wood veneer finish and it blends in with my other decor seamlessly. The first thing I did after putting my table together and adjusting all the necessary parts was play that $3 record. And you know what? It played flawlessly, along with every other record I own. I am more than pleased with my purchase and would recommend to anyone looking to up their vinyl game.

Kayleigh K

5

Jeff B

August 28, 2019

Intermediate Listener - 7 Years

Ontario, Canada

I was upgrading from an entry level ATLP60. I researched many other brands before settling on the Fluance RT81.
The setup was a cinch, thanks to the very easy to follow guide that Fluance provided.
Once set up, I was completely blown away! The sound was spectacular! I couldn't believe what an upgrade I had made!
I'm still in the middle of my 30 day trial period, but barring some unforeseen event, I doubt I'll return turntable.
Thanks for such a quality, Canadian made product Fluance!

Jeff B

5

Teresa D

August 22, 2019

Intermediate Listener - 5 Years

Maryland, United States

Beautiful and well made!

Teresa D

5

Charles, J

August 13, 2019

Audiophile - 20+ Years

Ohio, United States

Professional quality and design at reasonable cost. Excellence service .

Charles, J

5

Charles J

August 13, 2019

Audiophile - 20+ Years

Ohio, United States

Professional turntable that is attractive and functional. Needle said to last 1000 hours "approximately two years" with relatively inexpensive replacement.

Charles J

5

Charles J

August 13, 2019

Audiophile - 20+ Years

Ohio, United States

A professional quality turntable at a bargain price. Attractive looks. Easy setup. Needle said to last for 1000 hours with "inexpensive" replacement. Great customer service.

Charles J

5

Tyler A

August 8, 2019

Intermediate Listener - 5 Years

North Carolina, United States

I have had the RT81 for 3 weeks now and I am so happy I made the purchase. It looks great and sounds great! I really like the sound of the AT cartridge that comes with it. For the price its a no brainer!

Tyler A

5

carson m

August 5, 2019

Advanced Listener - 10 Years

Colorado, United States

it was a great tt well above price. considering the atlp120? i would go for this one. super! performance i thought could never be achieved at this price but it has! fluance has blessed the vinyl community truly!!!

carson m

5

Bill T.

August 5, 2019

Audiophile - 18 Years

Wisconsin, United States

great tt for the price especially if you can even upgrade the cartridge to the likes of nagaoka and a seperate phono stage like the schiit mani the result is stunning! very low motor noise nice build hinged cover. The sound has substantial bass not the most nuanced but good on the more bassy side... midrange and treble: the midrange is quite good considering the price.the midrange /treble/vocals are occasionally sibilant but for the price overall...excellent. highly recommended.

Bill T.

5

Álvaro B.

August 3, 2019

Intermediate Listener - 20+ Years

California, United States

I've got mine three days ago, and I absolutely love it! It's beautiful; well crafted, it got quality parts, and the most important thing: it sounds stunning! The only thing that bothers me a bit is the cue lever: it's too close to the tonearm. It's easy to hit it accidentally. But this is a minor issue. It's worth every penny.

Álvaro B.

5

KellyZ

August 1, 2019

Novice Listener - 20+ Years

British Columbia, Canada

Could not be happier with my re-introduction into vinyl. The Fluance community through their site and on youtube made set up a breeze, and I was enjoying my old LPs within 30mins of unboxing.

See all reviews

KellyZ

5
Resources
FAQs
Does this turntable have built in speakers?
Fluance turntables do not include built in speakers.
To use a Fluance turntable, connect it to a home theater receiver or amplifier for use with passive speakers, or connect it to a set of powered speakers such as the Ai40 Powered Bookshelf Speakers.
If your receiver or speakers do not have a specific PHONO input or integrated preamp, RT80 and RT81 both include an internal preamp for quick and easy setup.
Do I need an amplifier for this turntable?
An amplifier is only needed if you're connecting the turntable to passive speakers such as the Signature Series Bookshelf Surround Speakers.
If you're looking for an option without a separate amplifier, the Ai40 Powered Bookshelf speakers fit the bill.
With the Ai40, all you need to do is connect the included RCA cables to the speakers, turn on the internal pre-amp and you're ready to listen to the music the way it was meant to be heard.
When do I use the turntable's built in preamp?
If you're using an amplifier without a phono input, or some powered speakers such as our Ai40 model, you will need to use the preamp by sliding the switch to the "LINE" position.
Can I install a different cartridge on this turntable?
The tonearm of the RT80 and RT81 model turntables is compatible with cartridges from 3.5 grams to 6.5 grams in weight.
For full instructions on this process, see our video below:
Articles from our experts