 Signature HiFi 2-Way Center Channel Speaker
For Enhanced Dialogue and Vocals - Black Ash (HFC)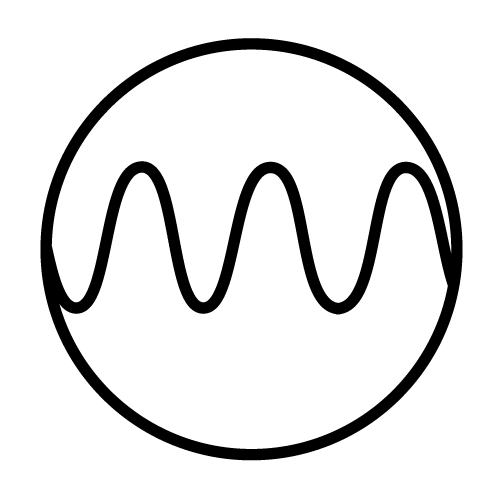 EVERY DETAIL HEARD
Perfect the vocals and dialogue of your favorite music and movies with this high fidelity center channel speaker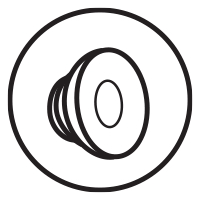 PREMIUM COMPONENTS
Mastering precision and sonic accuracy, the Signature Series uses only premium components that ensure high fidelity sound transporting the theater into your living room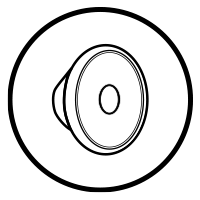 PURE LISTENING EXPERIENCE
Ultra high-end Neodymium tweeters produce high frequencies with captivating clarity for a pure listening experience.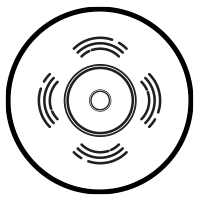 ENHANCED SOUND
Dual 5 inch midrange drivers with unique pointed dome that allows sound waves to travel directly from the center of the woven glass fiber cone for an enhanced soundstage

PRECISION CRAFTED CABINET
Acoustically inert, the cabinet is precision crafted with engineered wood to create a warm, distortion-free sound
Overview
Specifications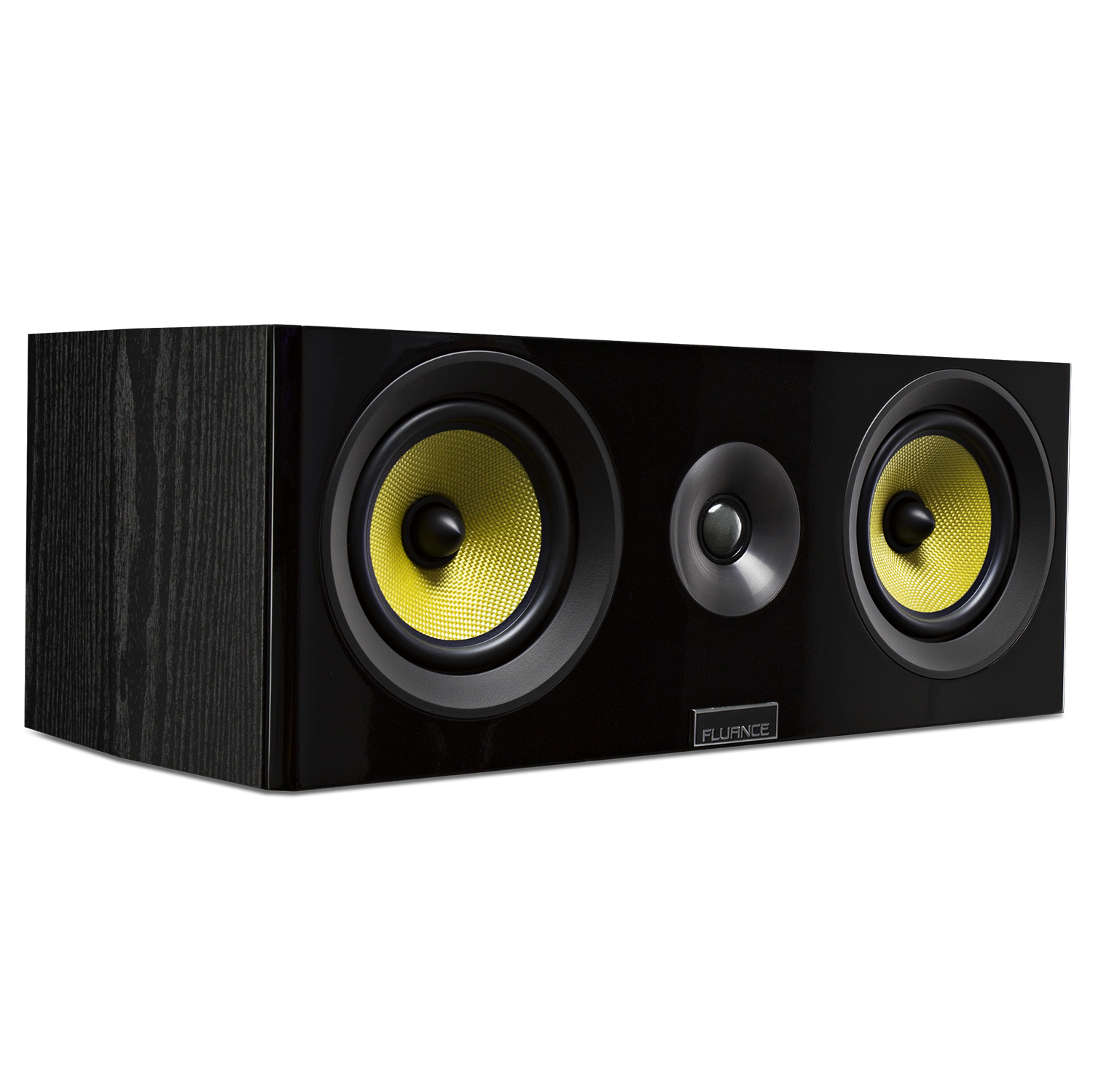 Speaker Configuration
2 Way - 3 Driver Center Speaker (Wall Mountable)
Tweeter
1 Inch Neodymium Balanced Silk Dome Ferrofluid Cooled
Woofer
Dual 5 Inch Glass Fiber Treated Butyl Rubber Surrounds
Power Handling
40 - 120 Watts RMS
Frequency Response
60Hz - 20KHz
Sensitivity
92dB @ 2.83V / 1m
Crossover Frequency
2300 Hz Phase Coherent
Impedance
8 Ohm Compatible
Enclosure
Dual Tuned Rear Port Bass Reflex Design
Dimensions
7.3 x 18.9 x 10.6 inches / 18.5 x 48 x 26.9 cm (HxWxD)
Speaker Weight
16.3 pounds/speaker
Series
SIGNATURE
Certifications
CE Certified, RoHS
Subwoofer Output
No
DOLBY ATMOS
Ideal for use as surround sound speakers in a Dolby Atmos™ Surround Sound System
Frequency Response Graph

Click to Expand

Fluance Speaker Size Comparison Chart

UPC
061783263549
What's Included
HiFi Center Channel Speaker with integrated wall mounting brackets (keyhole slots)
Sound isolation pads
Magnetic Front Grill
Instruction Manual
Lifetime Customer Support
Full Lifetime Parts and Labor Manufacturers direct Warranty
Customer Reviews
Victor L.

April 11, 2021

Advanced Listener - 3 Years

Alberta, Canada

I'm a bose fan, I have wireless 5.1 acoustimass st up in my living room. But for change I tried and bought the tower signature series for my Man cave and I was impressed how great the sounds and looks. So I add a signature center speaker and bipolar surround speakers,I love it great speakers.
Now Im thinking to buy the fluance sub woofer.

Victor L.

4

Nadon P

January 7, 2021

Intermediate Listener - 4 Years

Quebec, Canada

J'aurais voulu donner 5 étoiles mais pas encore assez d'heure d'utilisation et de manipulation avec le récepteur home theater.
Ma première impression très beau haut parleur central, bonne basse très clair, voix très présente mais ne vous attendez pas à ce que tous ce que vous écouter le sois, avec la bonne source ce haut parleur fait beaucoup et plus encore très précis, mais avec une moins bonne source c'est juste correct.
Pour l'instant je découvre à chaque jour.
Très heureux de cette achat recommande fortement pour ceux qui aime les détails.


Nadon P

4

Kenny M

December 24, 2020

Intermediate Listener - 15 Years

Nova Scotia, Canada

Right out of the box this center channel speaker sounds good. However after a few hours of break-in this gem really starts to shine. Vocals are so clear, it delivers way more than the price would suggest. Highly recommended.

Kenny M

5

Lincoln H

November 25, 2020

These are beautiful speakers with very good sound. Very happy and great value for money!

Lincoln H

5

Steve C

November 17, 2020

Advanced Listener - 20+ Years

Ontario, Canada

I am amazed at the quality of this speaker, superbly made and emitting beautiful sounds! Right now it's hooked up to my 25 year old JVC system and what an improvement over the old Paradigm centre speaker it replaces. I can't wait till I get my Sony Home Theatre system up and running, to try out the Fluance speakers I ordered ... note I preferred getting Fluance over Sony's own brand!

Steve C

5

Amazon Customer

November 15, 2020

Something is loose and rattling on the inside. More than likely the glue that was holding down the crossover is no longer doing so.

Amazon Customer

3

Swedeman

August 5, 2020

Fabulous center channel speaker, great value as well, you're getting a lot! As others have stated, this Fluance needs time to break in, sound quality at first is mediocre at best. After 20 hours or so the change is astounding,full range and great punch and clarity. Sandwiched between two Polk towers and a Bic subwoofer, this Fluance delivers in a way that my entire audio experience has improved greatly, we hear huge improvements in mid range brass, guitar, strings, horns etc. Dialogue is sharper, smaller details pronounced, soundtracks louder and sharper during home cinema. Bought 12 gauge speaker wire as recommended by Fluance. Very pleased with our purchase.

Swedeman

5

Brian D

July 18, 2020

Audiophile - 15 Years

California, United States

Great value, great sound, great customer support. Would def buy again

Brian D

5

Daniel B

June 1, 2020

Advanced Listener - 20+ Years

California, United States

Great performance and look of the speaker just like all of Fluance speakers. Would highly recommend.

Daniel B

5

Rob

May 1, 2020

Intermediate Listener - 20+ Years

British Columbia, Canada

Fantastic upgrade. Pairs well with my B&W fronts and Fluance bipole surrounds. Great speaker.

Rob

5

Dennis C

December 24, 2019

Intermediate Listener - 20+ Years

Ontario, Canada

After a short beak in period it sounds good, nice and clear voices. It looks very nice in black wood with the yellow drivers.

Dennis C

5

Steve N

November 4, 2019

Intermediate Listener - 20+ Years

Utah, United States

Got this about a week ago. Great speaker! Well worth a few hours of break-in! When I first hooked it up, highs and upper mids were good but lower mids and bass were muddy. It has quickly improved and now at about 10 hours, it sounds great! I understand words in songs that were always a bit of a mystery before, and dialog in movies etc. is great. Bass guitar and percussion is clean and very punchy. Really happy with this center channel. I've tried a number of center channels before, but always took them back out because they didn't sound as good as my fronts (doing a phantom center). This is a keeper. Love it for music and movies!

Steve N

5

Jfm

September 3, 2019

Intermediate Listener - 20+ Years

Quebec, Canada

Great sound for the price

Jfm

4

Ben C

July 16, 2019

Advanced Listener - 4 Years

Montana, United States

I have a complete set of xl7f fluance speakers on my 7.2 system already. I bought it about four years back, and my only disappointment was the center channel which always seemed to have trouble projecting as well as I needed it to. I took a shot at their latest product and I am truly enjoying this speaker. Much clearer and projects voices very well. I love Fluance for their genuinely good products and beyond reasonable prices. I plan on upgrading the whole set to their latest version very soon. Great speakers and subwoofers. Keep up the good work.

Ben C

5

William

March 8, 2019

Advanced Listener - 20+ Years

Ontario, Canada

Very pleased with this center channel speaker. The dialogue on movies is significantly improved. Delivery was outstanding - received the day after placing the order. Over all, very impressed.

See all reviews

William

5
Resources
Manual
FAQs
Do I need a receiver/amplifier for these speakers?
All Fluance passive speakers (unpowered) require a receiver or amplifier to provide them power and a connection to your home theater or media setup.

For more information on how to match your speakers and amplifier, please see our video:
What size speaker wire do I need?
At Fluance, we recommend using 12 gauge speaker wire to get the best performance from your speakers.
Articles from our experts