Overview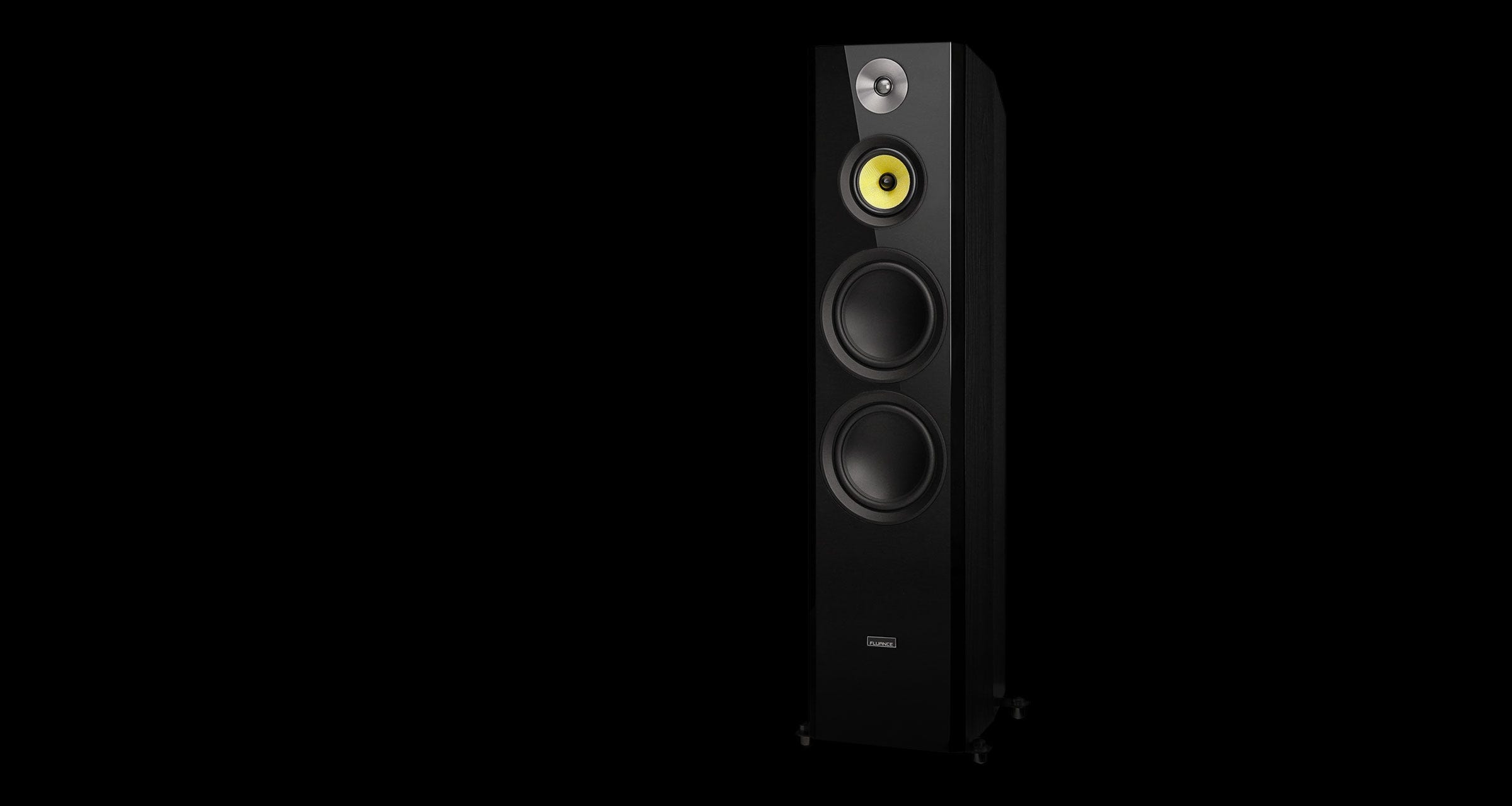 Signature Series Hi-Fi 7.0 Home Theater Speaker System
The Signature Series 7.0 Surround Sound System is designed to encapsulate you with every sound the way the artist intended. This home theater system includes powerful floorstanding tower speakers delivering full range sound, a center channel speaker to accentuate crisp vocals, as well as surrounds and rear surrounds for multi-directional sound for an immersive cinematic and music experience that is not just heard, but felt throughout your entire body.

Focus on Sound Excellence
The Signature Series is a powerhouse in home audio. From the powerful woofers, to the ultra-high end tweeters, to the premium midrange drivers, this speaker system is the result of years of meticulous engineering. With a focus on sound excellence, every detail has been measured, tested, and perfected to recreate even the finest audio details with crystal clear accuracy.

Woofers that Reproduce Cinema Inspired Bass
From the lowest, deepest bass beats to the wildest explosions, you will experience every rumble. Lows kick in at 35Hz and hold their own throughout. The powerful 8" long throw woofers produce deep, clear, undistorted bass.

Midrange that Accentuates the Vocals
The Signature Series midrange drivers are woven with light weight yet rigid glass fiber for optimal linear movement to handle even the highest volume levels and still ensure sonic precision and clarity. The unique pointed dome allows sound waves to travel directly from the center of the cone for an enhanced soundstage. This guarantees every movie is heard the way the sound producers intended.

Tweeters Heighten Every Fine Detail
The Signature Series ultra-high end Neodymium tweeters produce high frequencies with captivating clarity and spacious imaging. A true three dimensional soundstage is achieved by using the same tweeter in all five speakers resulting in an equivalent tone from every direction. Controlled, smooth and never too aggressive, these tweeters will deliver the movie's finest details.

Serious Cabinet Engineering
The cabinets are precision crafted with engineered MDF wood to create a warm, distortion-free sound. The tower speakers' cabinet is composed of separate internal enclosures keeping sound waves isolated to eliminate acoustic interference. Outriggers with sound-isolation floor spikes eliminate floor reverberation.System Includes: HFCW, HFFW, HFSWx2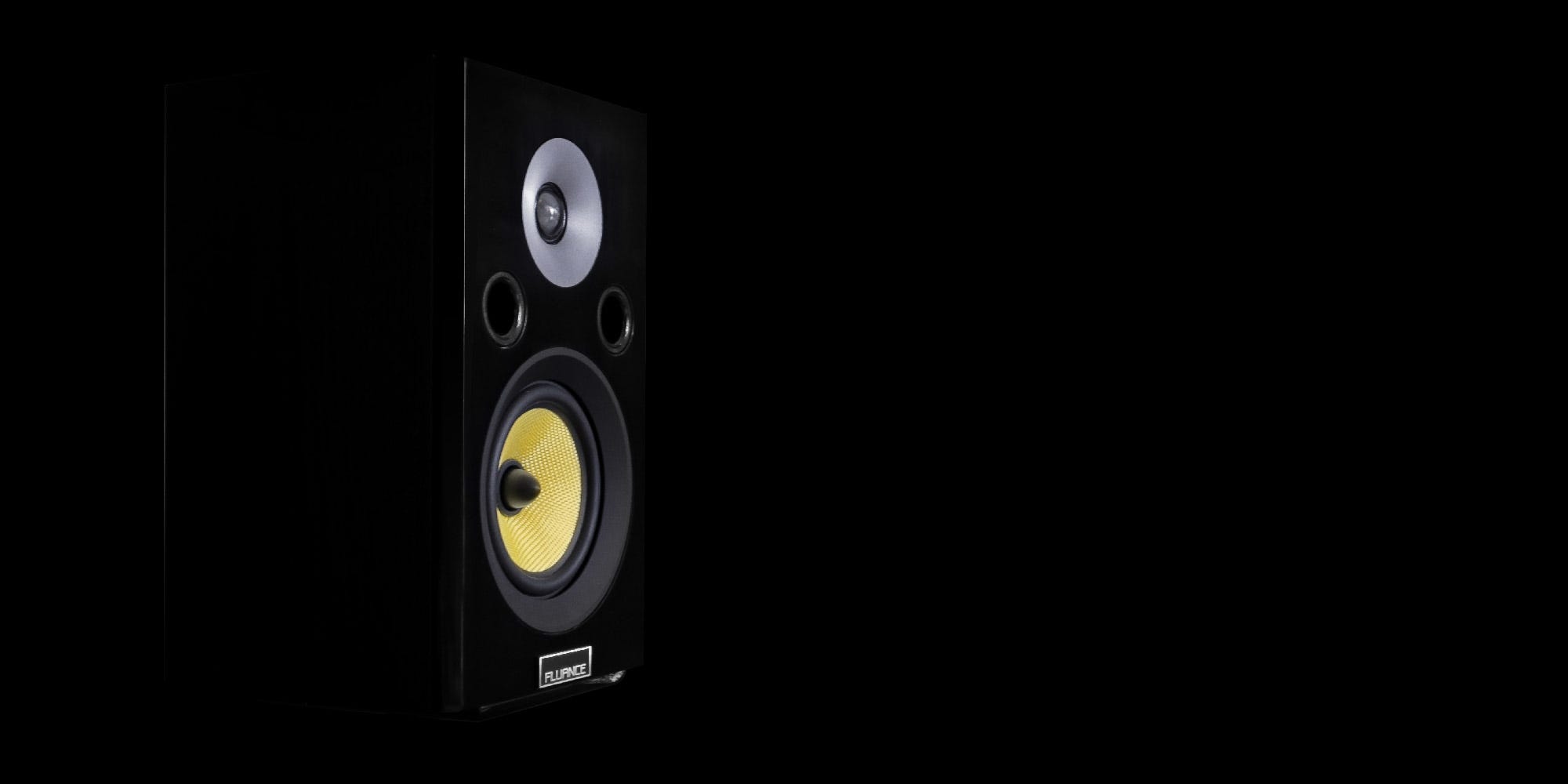 Premium Features
Timbre matched 7 speaker system for home theater and home audio applications
Butyl rubber surrounds suppress unwanted cone resonances, ensuring durability and performance reliability
Ferro-fluid cooled tweeters for longer life
Vertically and horizontally internally braced engineered MDF wood cabinet with reinforced front baffle
Tuned bass ports reflex cabinet designed for improved efficiency and controlled low-frequency response
Outrigger speaker stabilizers create a commanding stance while also providing additional speaker stability (fronts)
The copper sound-isolation floor spikes eliminate vibration absorption to aid in eradicating distortion (fronts)
Binding post designed for banana plug connectors and speaker wire compatibility
Premium crossovers feature Butterworth design for audio equalization
18 gauge internal lead wire to reduce signal degradation
Magnetic grills detach to reveal a smooth finish with no visible fasteners
Low diffraction grills for spacious imaging
Built-in keyhole slot wall mount hardware (Center & Surrounds)
Specifications
Signature HiFi 2-Way Center Channel Speaker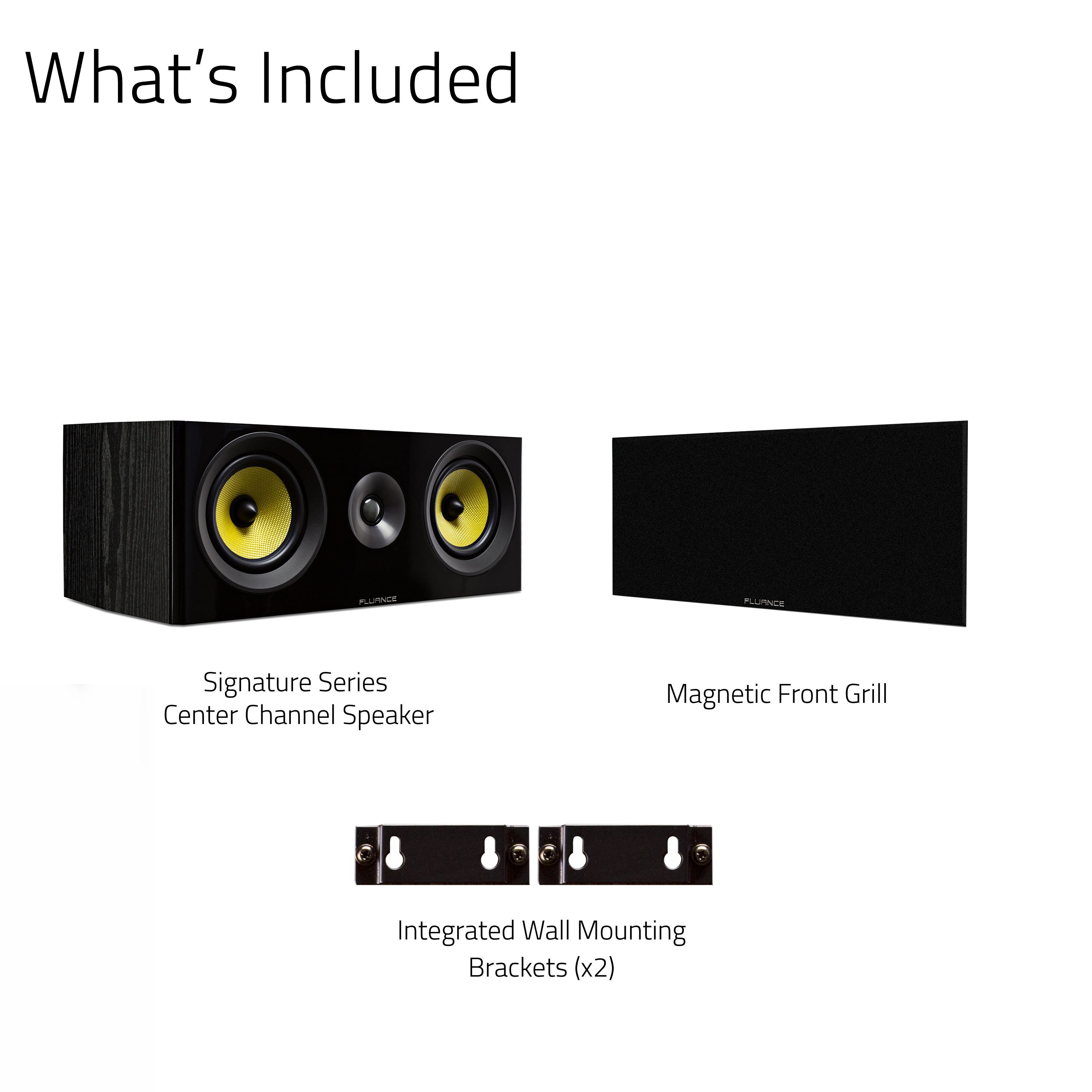 Speaker Configuration
2 Way - 3 Driver Center Speaker (Wall Mountable)
Tweeter
1 Inch Neodymium Balanced Silk Dome Ferrofluid Cooled
Woofer
Dual 5 Inch Glass Fiber Treated Butyl Rubber Surrounds
Power Handling
40 - 120 Watts RMS
Frequency Response
60Hz - 20KHz
Sensitivity
92dB @ 2.83V / 1m
Crossover Frequency
2300 Hz Phase Coherent
Impedance
8 Ohm Compatible
Enclosure
Dual Tuned Rear Port Bass Reflex Design
Dimensions
7.3 x 18.9 x 10.6 inches / 18.5 x 48 x 26.9 cm (HxWxD)
Speaker Weight
16.3 pounds/speaker
Series
SIGNATURE
Certifications
CE Certified, RoHS
DOLBY ATMOS
Ideal for use as surround sound speakers in a Dolby Atmos™ Surround Sound System
Frequency Response Graph

Click to Expand

Fluance Speaker Size Comparison Chart

UPC
061783263549
What's Included
HiFi Center Channel Speaker with integrated wall mounting brackets (keyhole slots)
Sound Isolation Foot Pads
Magnetic Front Grill
Instruction Manual
Lifetime Customer Support
Full Lifetime Parts and Labor Manufacturer's Direct Warranty
Signature HiFi 2-Way Bookshelf Surround Sound Speakers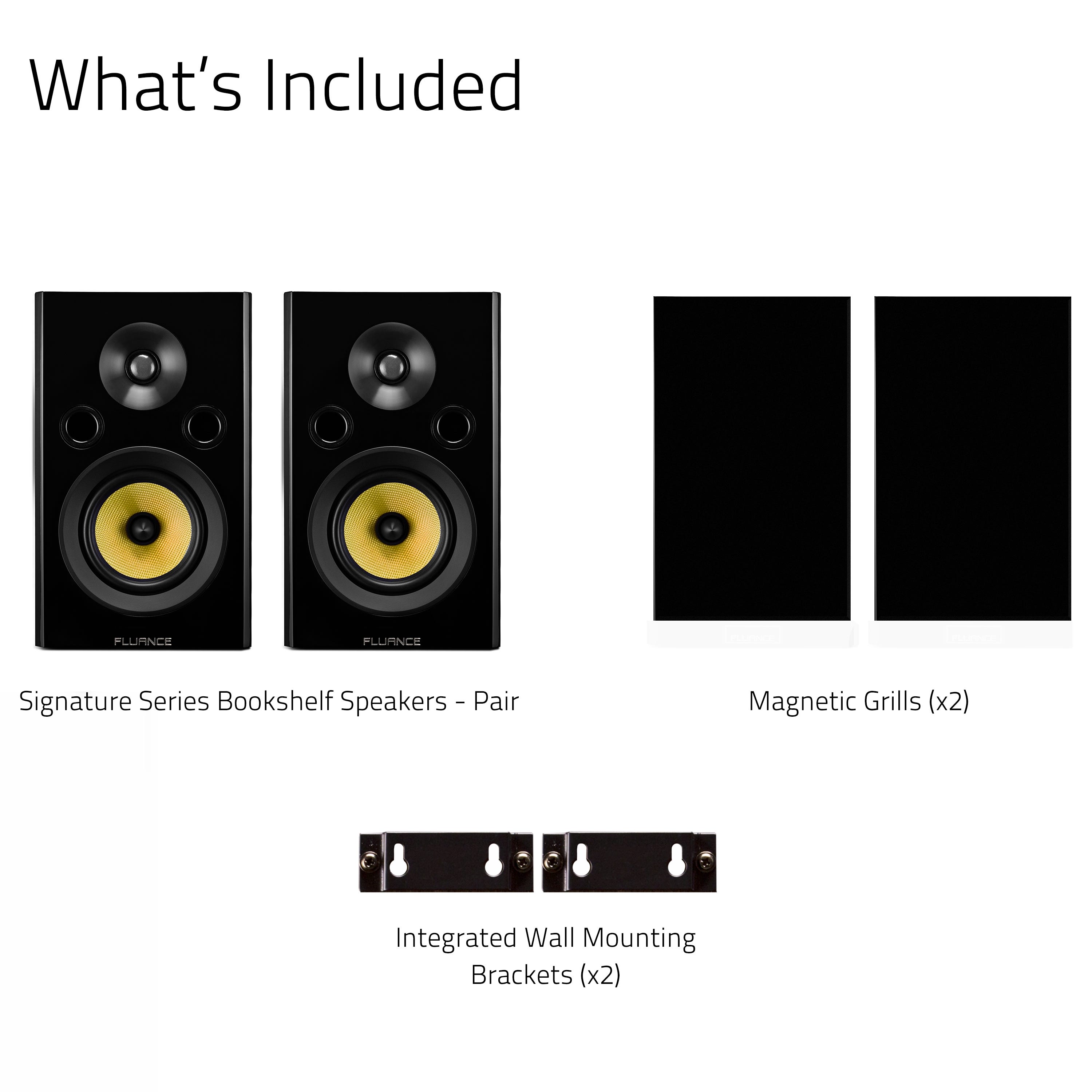 Speaker Configuration
2 Way - 2 Driver Passive Surround Speaker (Wall Mountable)
Tweeter
1 Inch Neodymium Balanced Silk Dome Ferrofluid Cooled
Woofer
5 Inch Glass Fiber Treated Butyl Rubber Surrounds
Power Handling
30 - 120 Watts RMS
Frequency Response
60Hz - 20KHz
Sensitivity
85dB @ 2.83V / 1m
Crossover Frequency
2300Hz Phase Coherent
Impedance
8 Ohm Compatible
Enclosure
Dual Tuned Front Port Bass Reflex Design
Dimensions
12.8 x 7.87 x 8.22 inches / 32.5 x 20.0 x 20.9 cm (HxWxD)
Speaker Weight
9.7 pounds/speaker
Series
SIGNATURE
Speaker Type
Bookshelf
Certifications
CE Certified, RoHS
DOLBY ATMOS
Ideal for use as surround sound speakers in a Dolby Atmos™ Surround Sound System
Frequency Response Graph

Click to Expand

Fluance Speaker Size Comparison Chart

UPC
061783263532
What's Included
Two HiFi Surround Sound Speakers with integrated wall mounting brackets (keyhole slots)
Sound Isolation Foot Pads
Two Magnetic Front Grills
Instruction Manual
Lifetime Customer Support
Full Lifetime Parts and Labor Manufacturer's Direct Warranty
Signature Hi-Fi Three-way Floorstanding Speaker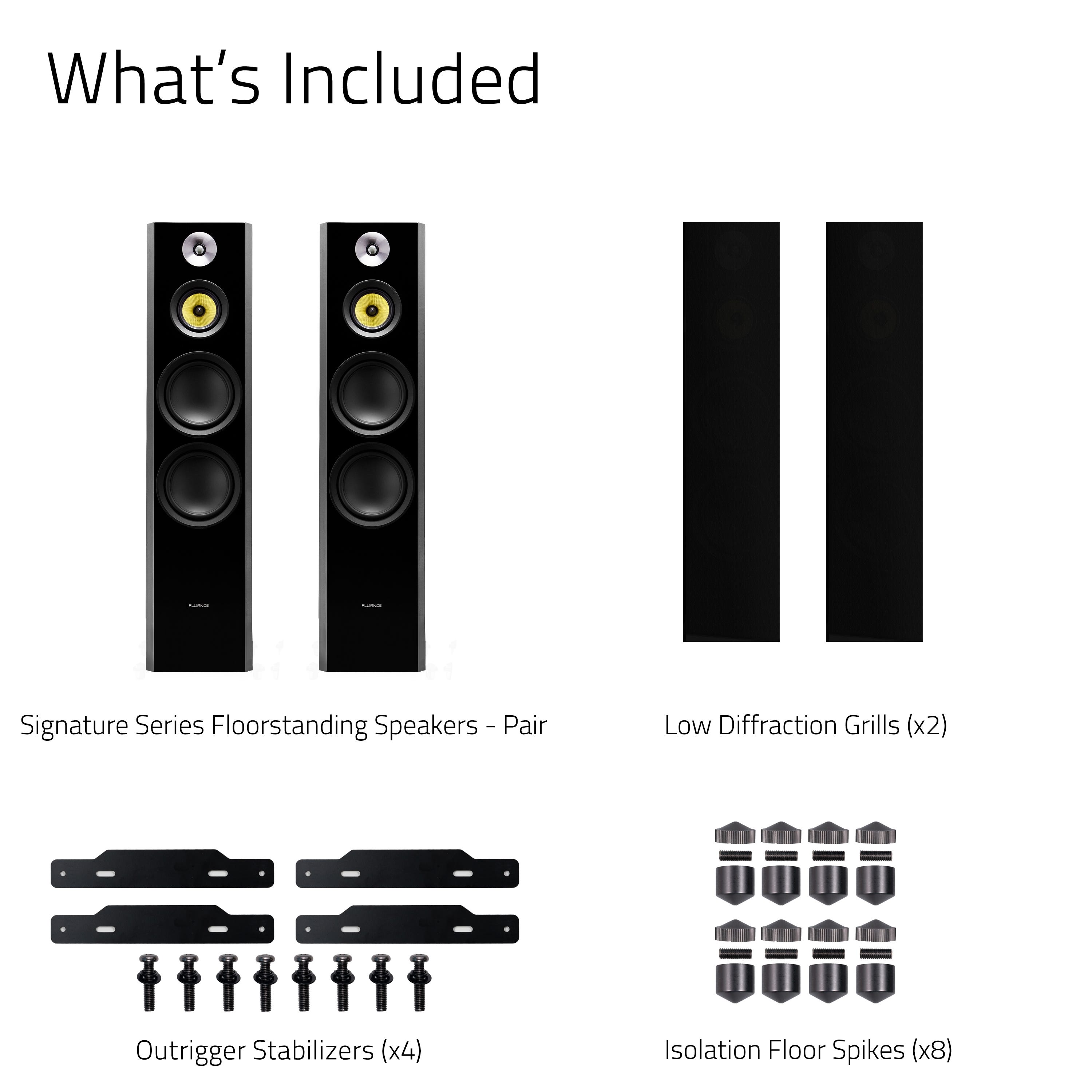 Speaker Configuration
3 Way - 4 Driver Floorstanding Main Speakers
Tweeter
1 Inch Neodymium Balanced Silk Dome Ferrofluid Cooled
Midrange
5 Inch Woven Glass Fiber Butyl Rubber Surrounds Separate Enclosures
Woofer
Dual 8 Inch Polypropylene Butyl Rubber Surrounds Separate Enclosures
Power Handling
90 - 200 Watts RMS
Frequency Response
35Hz - 20KHz
Sensitivity
89 dB @ 2.83V / 1m
Crossover Frequency
530/2600 Hz - PCB Mounted Circuitry
Impedance
8 Ohm Compatible
Enclosure
Tuned Rear Port Bass Reflex Tower Design Dampened
Dimensions
47.3 x 10.9 x 15.4 inches / 120.1 x 27.7 x 39.1 cm (HxWxD)
Speaker Weight
62.4 pounds/speaker
Series
SIGNATURE
Certifications
CE Certified
DOLBY ATMOS
Ideal for use as front speakers in a Dolby Atmos™ Surround Sound System
Frequency Response Graph

Click to Expand

Fluance Speaker Size Comparison Chart

What's Included
Two Hi-Fi Floorstanding Speakers
Four Outrigger Speaker Stabilizers
Eight Isolation Floor Spikes
Instruction Manual
Two Magnetic Front Grills
Lifetime Customer Support
Full Lifetime Parts and Labor Manufacturers direct Warranty
Customer Reviews
Darren

November 30, 2018

Novice Listener - 3 Years

Alberta, Canada

Great sound

Darren

5
Articles from our experts