Overview

Elite Series Bipolar Surround Sound Satellite Speakers
The Fluance SXBP2 Bipolar Surround Sound Speakers offer an energetic and enticing performance with superior components that enhance the cinephile experience. From every high speed locomotive to the ferocious jet plane flight, these bipolar speakers will reinforce the movie theater experience you dream about.

Bipolar Surround Sound Design
The unique configuration of the bipolar speakers creates a 3D soundstage. This is achieved by having two complete full-range speaker systems on opposing sides of the cabinet. The results are widespread, enveloping surround sound throughout your room. The SXBP2 are designed for placement beside or behind the listeners for an extremely convincing 5.1/6.1/7.1 surround ambiance.

Thrilling Highs
The enveloping sound design of the SXBP2s will have your heart pumping and your head rotating. The neodymium tweeters of the Classic Series bipolar speakers increase the enjoyment from your favorite cinematic blockbusters. You will feel every spine-tingling scream and rapid stampede from the SXBP2 bipolar speakers.

Richness in the Middle
Experience the high definition sound effects Hollywood intended you to hear with the SXBP2 Bipolar Surround Sound Speakers. The dual four-inch midrange drivers enhance cinema quality home theater by replicating the soundstage, tones and notes you crave from your favorite films and concerts.
Specifications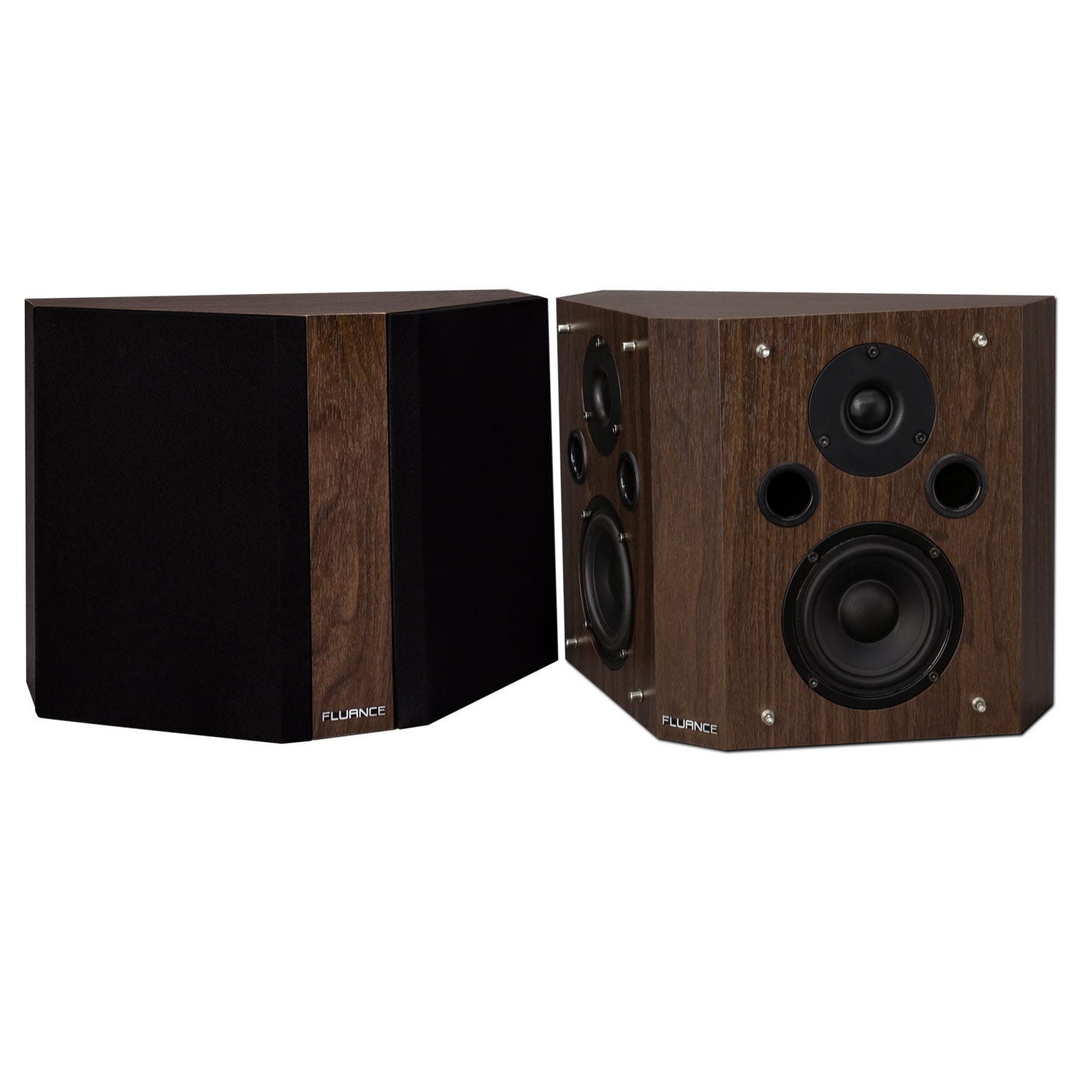 Speaker Configuration
2 Way - 4 Driver Bipolar Surround Speakers (Wall Mountable)
Tweeter
1 inch Soft Dome Neodymium Ferrofluid Cooled
Woofer
4 inch Poly-coated Driver with Butyl Rubber
Power Handling
40 - 120 Watts RMS
Frequency Response
60-20KHz
Sensitivity
88dB @ 2.83V / 1m
Impedance
8 Ohms
Enclosure
Vented Bass Reflex Design
Dimensions
10.4 x 7.0 x 13.8 inches
Speaker Weight
9.2 pounds/speaker
Series
ELITE
Speaker Type
Bipolar
Certifications
CE Certified, RoHS
Subwoofer Output
No
DOLBY ATMOS
Ideal for use as front speakers in a Dolby Atmos%E2%84%A2 Surround Sound System
Frequency Response Graph

Click to Expand

Fluance Speaker Size Comparison Chart

UPC
061783265734
What's Included
Two Bipolar Surround Sound Speakers with Integrated Wall Mounting Brackets (keyhole slots)
Instruction Manual
Full Lifetime Parts and Labor Manufacturer's Direct Warranty
Lifetime Customer Support
Customer Reviews
Eric

July 19, 2018

These are beautiful speakers and the sound is great!!! - Verified Store

Eric

5

maf l

June 10, 2018

nice - Verified Store

maf l

5

JLG

April 30, 2018

Excellent build quality. Great sound! - Verified Store

JLG

5

joe f

March 1, 2018

Awesome surround speakers luv this with price it's worth.... - Verified Store

joe f

5

Client d

March 1, 2018

Pour 128.$ c'est correct. Il ne faut pas s'attendre à de la haute fidélité. - Verified Store

Client d

3

Li M

February 26, 2018

Play significantly lower than my old AVBP2 due to the ports. The sound quality is mediocre overall but imaging is excellent. Highs can be a little shrill and clarity/separation isn't great but they work very well for surround speakers.

My old AVBP2s couldn't play much lower than about 150 Hz while test dig down to about 70 - 110 Hz depending on positioning in the room. - Verified Store

Li M

5

Amazon Customer

February 22, 2018

Fluance speakers are amazing. - Verified Store

Amazon Customer

5

Amazon Customer

February 22, 2018

Sound is so crisp. Bought two pairs. - Verified Store

Amazon Customer

5

Zo

February 18, 2018

These speakers are AWESOME...! I have never experienced such sound in my home system I also purchased the center channel speaker and I am thrilled at the quality of the speakers and the sounds that they produce. Absolutely 5 Stars PLUS the best speakers I've ever heard in any home theater system...! - Verified Store

Zo

5

Ravi T

February 17, 2018

The best surround speakers you can find in the market for the price. Glad I bought them. Bipolar speakers well suited for surround or wide speakers. Best price - Verified Store

Ravi T

5

Amazon Customer

February 13, 2018

sound great thanks - Verified Store

Amazon Customer

5

James

February 3, 2018

Great addition! - Verified Store

James

5

Highspeedplay

January 30, 2018

great price on nice surround speakers better than just bookshelf. - Verified Store

Highspeedplay

5

Eric L

November 19, 2017

Massachusetts, United States

These speakers are an incredible value! They handle the wattage of the vintage audio components I collect, and the price is simply phenomenal. I bought 2 sets for the 4-channel surround system in my living room & words can't explain how well they perform. The realism of movies is the finest I've ever heard, even from speakers costing twice as much! Sounds come from every direction even if you're not sitting directly in the center of these fine speakers. But listening pleasure doesn't stop there, crank up the tunes & these speakers deliver! You'll find yourself staring at the small drivers in disbelief at the incredible volume & bass issuing from them, yet your music is clean & free of distortion. Fluance has made a customer for life with me.

Eric L

5

Derek Cromwell

October 22, 2017

Arkansas, United States

The SXBP High Definition Bipolar Surround Sound Speakers are simply put...Incredible. I have them positioned in my rear surround spot and cannot believe the sound and separation. The rear soundstage is just incredible. I love so much just bought another pair for my side surround to use in my 9.2 set up.

See all reviews

Derek Cromwell

5
Resources
Manual
FAQs
Do I need a receiver/amplifier for these speakers?
All Fluance passive speakers (unpowered) require a receiver or amplifier to provide them power and a connection to your home theater or media setup.

For more information on how to match your speakers and amplifier, please see our video:
Where should I put Bipolar Speakers?
Bipolar speakers are best used as surround speakers. Sometimes placed at the rear of a 5 speaker setup, they are most at home in a 7 speakers setup placed at the sides of the listening area.

They're designed to output sound is multiple directions so wherever you are in the room, you get the same experience.

For more information, see our video: How to install and position your Fluance bipolar speakers.


What size speaker wire do I need?
At Fluance, we recommend using 12 gauge speaker wire to get the best performance from your speakers.