Overview
The raw emotion and powerful force of a live concert can be felt at home with the Fluance FiTSD600 2.1 High Performance Tower Speaker System for iPods and iPhones. Our devotion to exceptional audio products continues with this elite, stylish music system that fits effortlessly into any home décor. Guests will be amazed when seeing the FiTSD600 and be impressed when they hear the room-filling superior sound quality that is produced from it.
At Fluance we only use premium components in all of our speakers, and the FiTSD600 is no exception. By combining the high performance of a tower speaker and the design innovations of an iPod/iPhone docking system, the FiTSD600 provides you with a pure listening experience that is reproduced through the exhilarating highs of the tweeters, the smooth midrange drivers, and the deep bass of the subwoofer. With superb sound radiation and rich timbre, the FiTSD600 is perfect for anyone from everyday music listeners to audiophiles, and can handle even the highest volume levels for continuous enjoyment. Enhance your iPod or iPhone with the FiTSD600, which is a true representation of Serious Performance.
High Fidelity Sound
The FiTSD600 speaker system offers high fidelity sound that you would expect from a complete home theater system. This music system provides full range sound at every volume level with outstanding precision and clarity. Utilizing state-of-the-art engineering technology, the FiTSD600 brings your iPod or iPhone's music to life with sonic accuracy and realistic reproduction.
High and Mighty
Experience exhilarating highs as if you were standing in the center of a live orchestra. The FiTSD600's superior tweeters produce high frequencies with breathtaking definition in any environment. The natural delivery of the high notes are controlled, distinct and crystal clear with the FiTSD600.
Center of Attention
The midrange driver is an essential component to any high-performing speaker system, and is responsible for the sounds that are most easily recognized by the human ear. The FiTSD600 faithfully reproduces the demanding midrange frequency produced by high-definition audio. From guitar strums to the artist's vocals, notes from your favorite tracks will come to life with a harmonic balance only heard through the FiTSD600.
Feel the Beat
The bass drum reverberates through your body as the subwoofer completes the frequency trifecta of the FiTSD600. Our sound engineers understand the importance of deep realistic bass, and have carefully designed the FiTSD600's front-firing subwoofer to achieve clean, powerful and well-defined low-frequencies for a heart-pounding performance.
A Diverse Music System for your Unique Lifestyle
The FiTSD600 speaker system plays your favorite iPod or iPhone music while charging your device. For other smartphone users, simply connect the included auxiliary cable to your headphone jack and let the good times roll. A built-in AM/FM radio and alarm clock help the early morning risers start the day. Also, the video output displays your iPod/iPhone's media on your TV. Moving the party onto the patio? No problem – just use the heavy duty handle to move this music system to various rooms. The FiTSD600's integrated illuminated touch panel provides easy control over your inputs, volume, treble/bass levels, time, radio and alarm clock. The multi-functional remote provides complete control of your FiTSD600, including navigating your iPod or iPhone as if it were in your hand.
Wood Cabinet Design
The FiTSD600 undergoes the same caliber of cabinet manufacturing as all Fluance home theater speakers. Precision-crafted in engineered MDF wood with a glossy piano-black finish, the FiTSD600 is expertly constructed to ensure a lifetime of exceptional sound reproduction. The internally-braced cabinet reduces resonance and supports all the premium components that provide you with superior sound. A finely tuned rear bass port controls low frequency response and improves efficiency for optimal listening. The included sound isolation floor spikes eliminate vibration that would otherwise distort your music. The FiTSD600 represents our true devotion to serious performance.
Specifications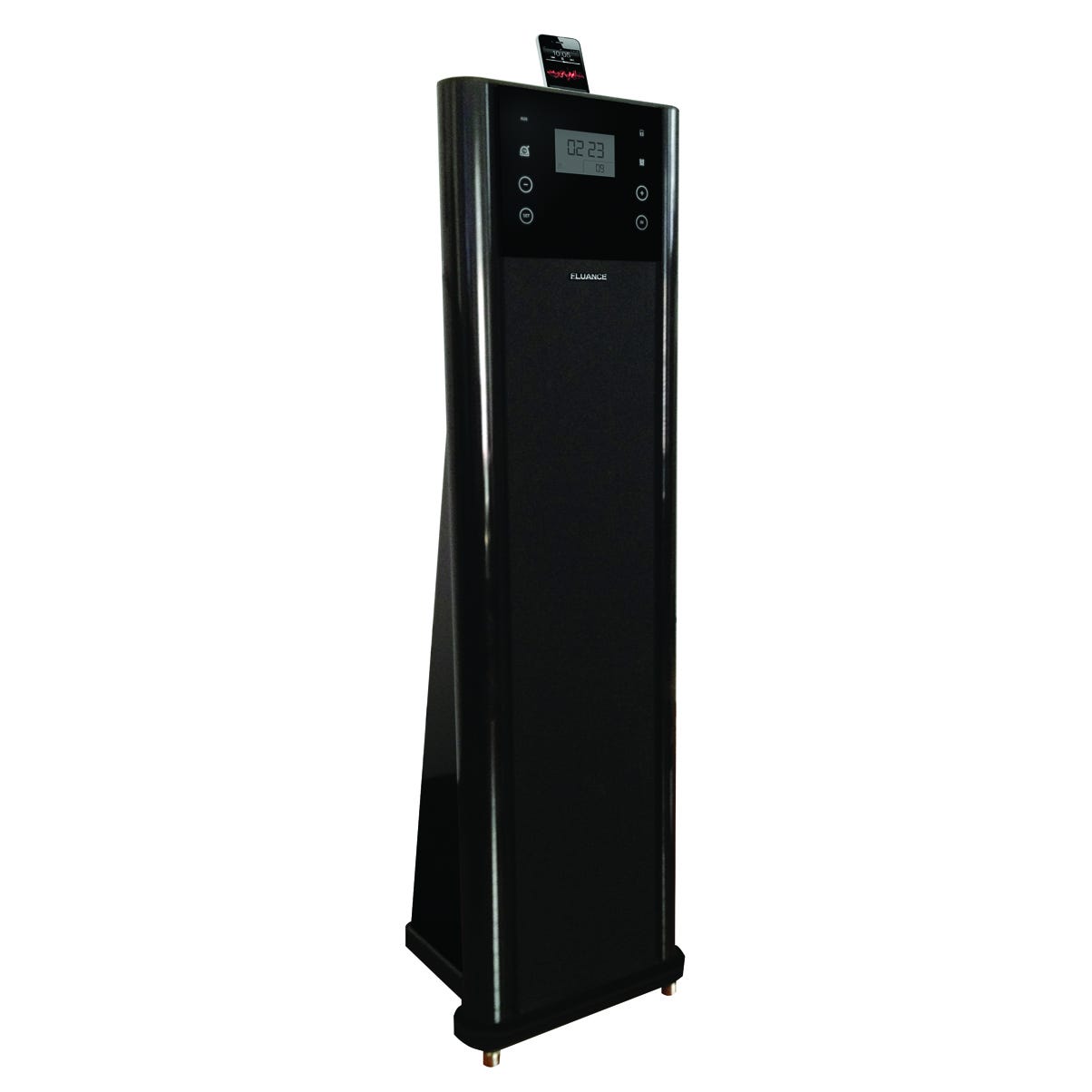 | | |
| --- | --- |
| Subwoofer Output | N/A |
| Fluance Speaker Size Comparison Chart | N/A |
Customer Reviews
Rami Reza

November 20, 2015

Love this dock, it can really pump with great sound quality. Only problem is fighting over who uses it. Time to buy another one.

Mario Flores

November 20, 2015

Great quality, and very tasteful design, your money's worth, sound quality amazing! and a great costumer service.

Mario Flores

November 20, 2015

Great quality, and very tasteful design, your money's worth, sound quality amazing! and a great costumer service.