Specifications
RT81 High Fidelity Vinyl Turntable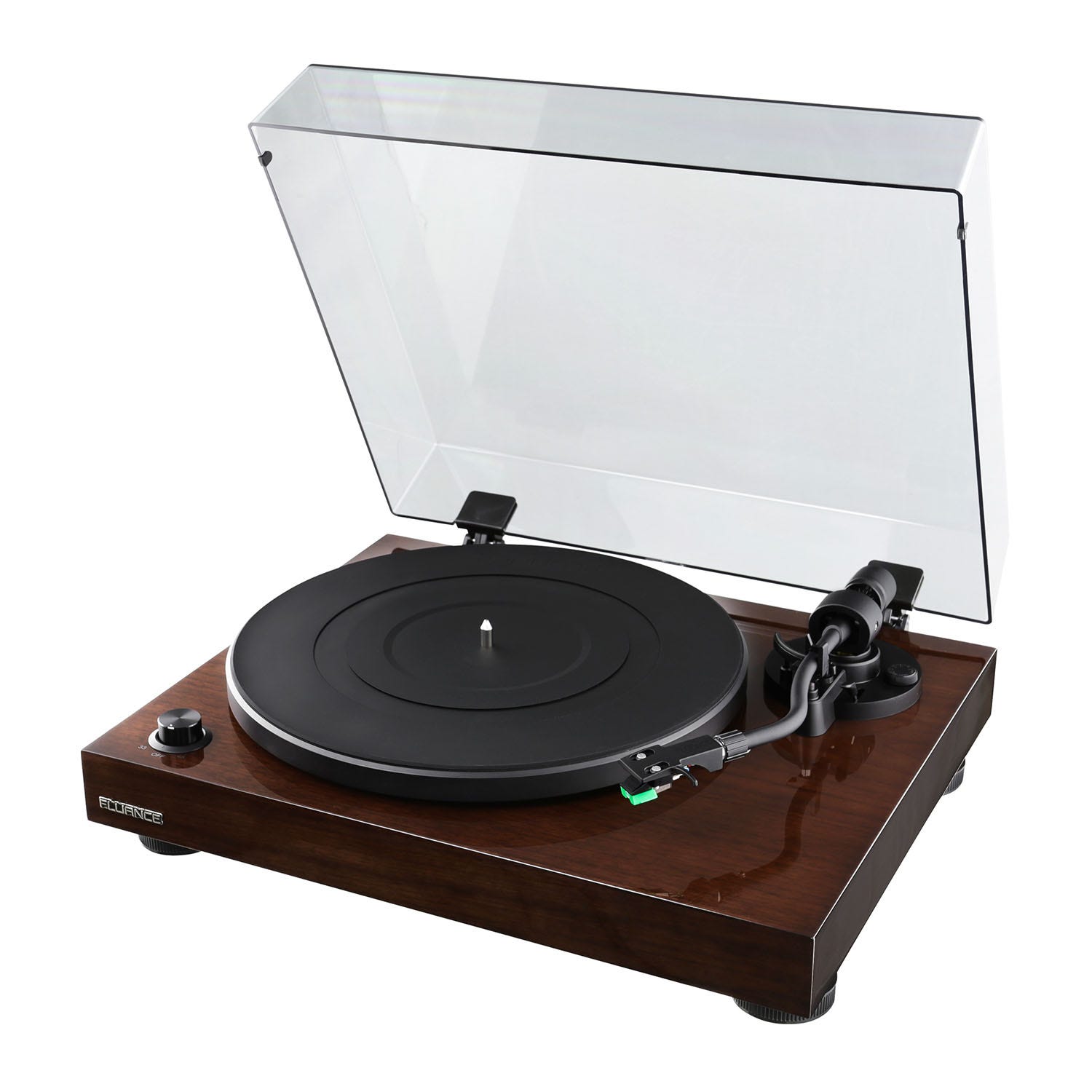 Cabinet Specifications
▼
Cabinet Material
MDF
Finish
High Gloss Walnut Real Wood Veneer
Dust Cover
Yes - Tinted
Turntable Specifications
▼
Drive System
Belt Drive
Motor
DC Motor with Three Point Rubber Isolation
Speed
33 1/3 RPM, 45 RPM
Speed Variation
+/-1.00% - Speed Adjustment Guide
Wow and Flutter
0.2%
Signal-to-Noise Ratio (Weighted)
67dB or higher (A-weighted, 20kHz LPF)
Signal-to-Noise Ratio (Unweighted)
60dB or higher (unweighted, 20kHz LPF)
Platter
Aluminum
Diameter of Platter
12", 30cm
Auto-Stop
Yes
Turntable Mat
Rubber
Tonearm Specifications
▼
Tonearm Type
Static Balanced, S-Type
Supported Cartridge Weight
3.5 to 6.5g
Anti-skating Adjustment
Yes
Pivot Bearing
Yes
Tonearm Material
Aluminum
Tonearm Wire
36 AWG Litz Cable / 7 Strand
Effective Tonearm Mass
28.2 grams
Overhang
19.2mm
Effective Tonearm Length
224mm
Headshell Mount
H-4 Bayonet Mount
Tonearm Height
17mm
Cartridge Specifications
▼
Cartridge Type
Dual Moving Magnet (MM)
Catridge Model
Audio Technica: AT95E
Replacement Stylus
ATN95E
Stylus
0.4 × 0.7mil Bonded Elliptical (Diamond)
Cantilever
Aluminum
Mount
Half inch
Frequency Response
20-20,000Hz
Channel Separation
20dB at 1kHz
Channel Balance
2.0dB or less at 1kHz
Load Impedance/Capacitance
47k Ohms/100pF
Output Voltage
2.5mV +/–3dB
Cartridge Weight
5.7g (+/- 0.5g)
Headshell Weight
10.7g
Recommended Tracking Force
2.0g +/–0.5g
Vertical Tracking Angle
20 degrees
Rubber Belt Specifications
▼
Width
4.5mm
Length
534.07mm
Thickness
0.6mm
Output Specifications
▼
Connector
RCA (Gold-plated)
Preamp
Yes, PHONO/LINE Switchable
Phono Output
2.5mV +/–3dB
Phono Bypass
Yes, all electronics bypassed when using external preamp
Line Output
140mV (–17dBV)
Ground Terminal
Yes
Power Specification
▼
Input
100V - 240V AC (50/60Hz)
Output
12V / 500mA
Consumption
1.5W
General Specifications
▼
Dimensions
16.5" x 5.5" x 13.75"
Certifications
FCC Certified
RoHS
CUL/UL

Unit Weight
6.4 kg or 14.1 lbs
Operating Temperature
20°C
Fluance Speaker Size Comparison Chart

UPC
061783264362
What's Included
RT81 Turntable
Dust Cover
45 Adapter
Rubber Slip Mat
3ft RCA Cable With Ground Wire
100V - 240V (50/60Hz) AC Power Adapter
User Manual
Lifetime Customer Support
2 Year Manufacturer's Warranty
Ai40 Powered 5" Bookshelf Speakers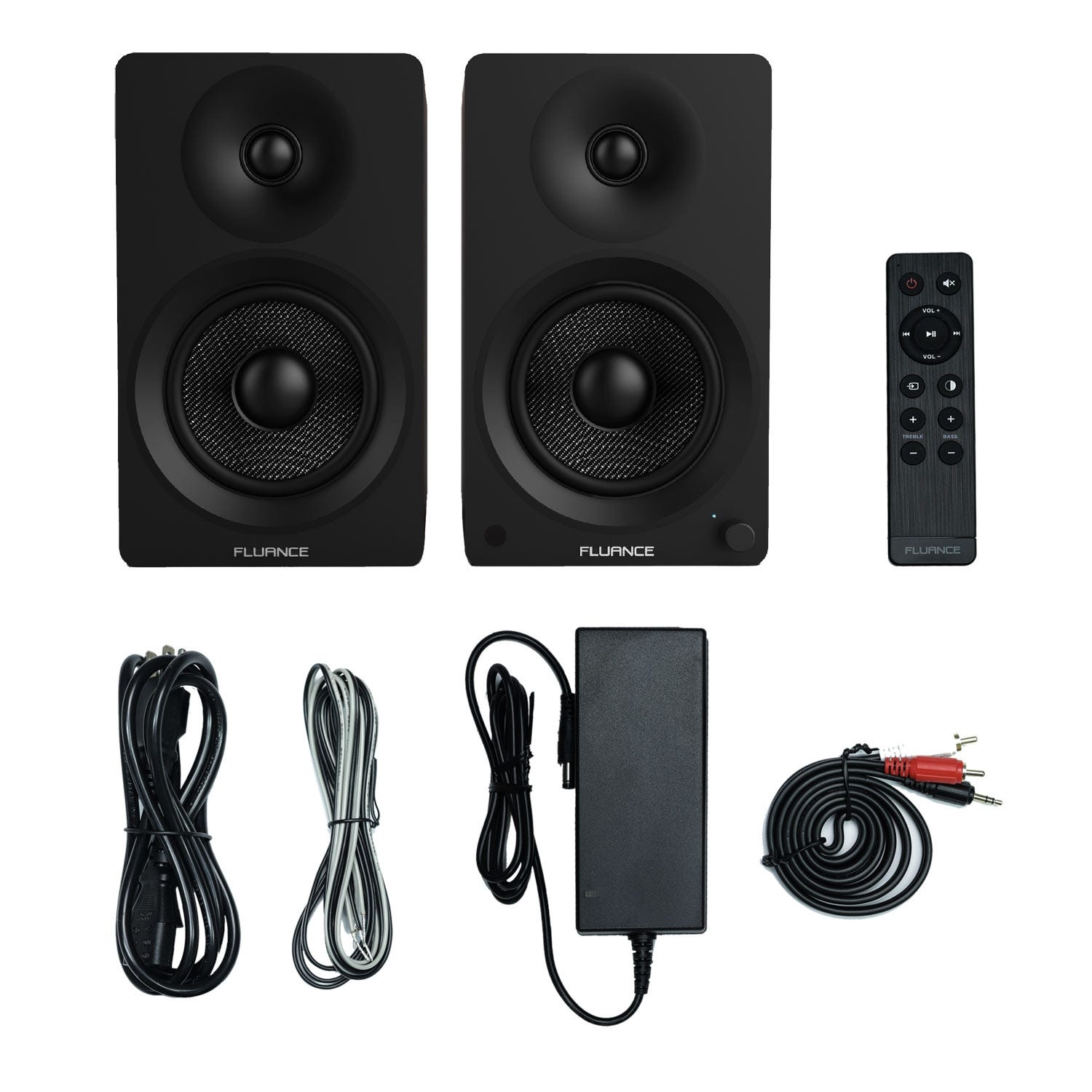 Speaker Configuration
2 Way – 2 Driver Bookshelf Speaker System with Integrated Amplifier (Pair)
Bluetooth
Yes; aptX Codec
Inputs
RCA L/R
Tweeter
1 inch Silk Soft Dome Ferrofluid Cooled
Woofer
5 inch Woven Glass Fiber Composite Drivers with Butyl Rubber Surrounds
Amplifier Power
Class D 70 Watts Continuous Average Output (2x 35 watts)
Frequency Response
40Hz – 20KHz (DSP Virtual Sound)
Internal Lead Wire
18 gauge Internal Lead Wire to Reduce Signal Degradation
Power
Input: 100-240V; Output: 19V 3.15A
Crossover Frequency
2600Hz Phase Coherent – PCB Mounted Circuitry
Enclosure
Acoustic Suspension Design
Dimensions
10.9 x 6.5 x 7.6 inch
Speaker Weight
15.1 lbs
Speaker Type
Bookshelf
Certifications
ICES
FCC Certified
ETL/CETL

Subwoofer Output
0
Total Harmonic Distortion (THD)
<0.3%
Frequency Response Graph

Click to Expand

UPC
871363024756
What's Included

Ai40 Speaker Line Out

Click to Expand

Fluance Ai40 Active Bookshelf
Speakers (pair)
Remote Control
2x AAA Batteries
100-240V Power Adapter
8ft 18 Gauge Speaker Wire
3ft 3.5mm Aux to RCA Cable
Quick Start Guide
Fluance Catalog
Lifetime Customer Support
2 Year Manufacturer's Warranty
Customer Reviews
Justin O

February 2, 2019

Novice Listener - 1 Year

Oregon, United States

After doing lots of research to figure out which turntable setup someone should buy who is new to the hobby but wants a great experience, I found Fluance. The quality is obvious as soon as you open the box. The RT81 and Ai40 speakers are very well constructed and feel like they are worth more than you pay. Setup was extremely easy, I watched a short video on YouTube that Fluance made about setup and in no time I was listening to my first record. Great quality sound and it looks amazing too. I couldn't be happier.

Johnathon b

January 31, 2019

Intermediate Listener - 3 Years

Minnesota, United States

Great turntable and speaker bundle. Fast shipping. Great company

Frederic L

January 22, 2019

Advanced Listener - 20+ Years

Quebec, Canada

The products are incredible. The turntable is strongly build, the set-up is really easy to follow. And it plays really beautifully. I also added the bookshelf speakers to my set-up and they are really impressive too. The sound is amazing. For the price, I was not expecting something as good as that. So the whole set-up with the turntable is the perfect match. The speakers are also Bluetooth and they play really well too on this setting. Really I have nothing negative to say about those products. For the price the quality is amazing. The shipping was also really fast. Thanks for the great products.

Dustin

January 12, 2019

Advanced Listener - 20+ Years

Ontario, Canada

I just purchased this turntable and amplified speaker combo and couldnt be happier. The sound is amazing and the bluetooth on the speakers is easy to connect to several devices. Its been great to see why everyone is so hyped on vinyl, the sound is far superior!

John H

January 11, 2019

Intermediate Listener - 4 Years

Connecticut, United States

I spent a fair amount of time looking into entry level high end turntable, pre-amp, and powered bookshelf systems. For the price point, I couldn't be happier with the system. Solid construction of the speaker boxes/turntable, and provides detailed quality sound to fill a small room. The removable head shell for cartridge upgrades is a great plus as well. Would definitely recommended to a friend.

Frank

December 28, 2018

Advanced Listener - 20+ Years

Virginia, United States

Santa brought me this whole package for Christmas! I guess I was very good. SOOOO Happy!
Perfect setup out of the box. FANTASTIC sound with built in preamp. Cannot wait to upgrade and see what this baby can do! : )

Carlo P

October 1, 2018

Advanced Listener - 20+ Years

Ontario, Canada

I purchased this product this summer and couldn't be happier. Looks great and has amazing warm tone. Awesome setup for the price.