Regular Price: $199.99 USD
Special Price $169.96 USD
Specifications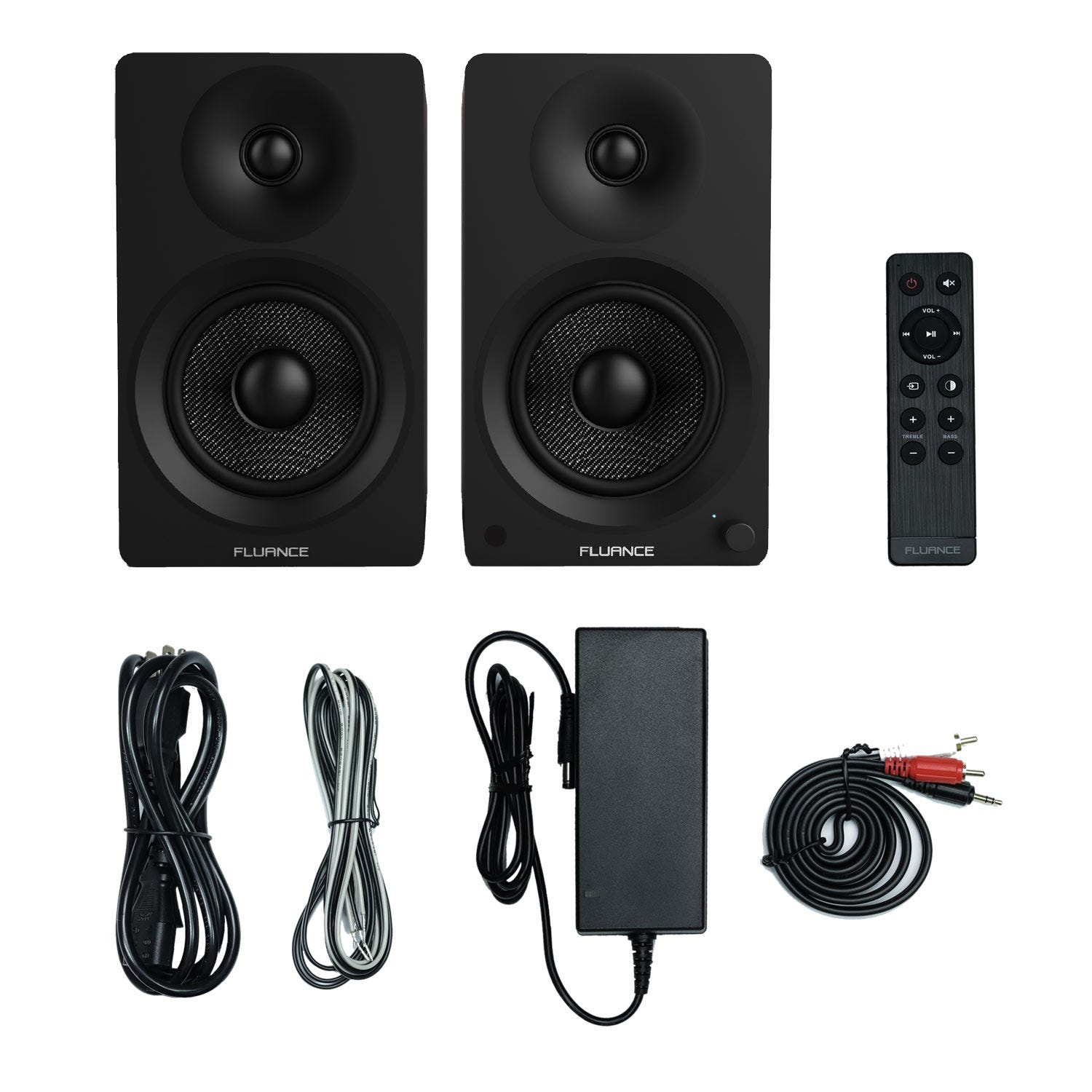 Speaker Configuration
2 Way – 2 Driver Bookshelf Speaker System with Integrated Amplifier (Pair)
Bluetooth
Yes; aptX Codec
Inputs
RCA L/R
Tweeter
1 inch Silk Soft Dome Ferrofluid Cooled
Woofer
5 inch Woven Glass Fiber Composite Drivers with Butyl Rubber Surrounds
Amplifier Power
Class D 70 Watts Continuous Average Output (2x 35 watts)
Frequency Response
40Hz – 20KHz (DSP Virtual Sound Perceived by Ear)
Internal Lead Wire
18 gauge Internal Lead Wire to Reduce Signal Degradation
Power
Input: 100-240V; Output: 19V 3.15A
Crossover Frequency
2600Hz Phase Coherent – PCB Mounted Circuitry
Enclosure
Acoustic Suspension Design
Dimensions
10.9 x 6.5 x 7.6 inch
Speaker Weight
15.1 lbs
Speaker Type
Bookshelf
Phono Preamp
No
Certifications
ICES, FCC Certified, ETL/CETL
Subwoofer Output
No
Frequency Response Graph

Click to Expand

UPC
871363024626
What's Included

Ai40 Speaker Line Out

Click to Expand

Fluance Ai40 Active Bookshelf
Speakers (pair)
Remote Control
2x AAA Batteries
100-240V Power Adapter
8ft 18 Gauge Speaker Wire
3ft 3.5mm Aux to RCA Cable
Quick Start Guide
Fluance Catalog
Lifetime Customer Support
2 Year Manufacturer's Warranty
Pro Reviews

AVS Forum Reviews the Ai40 Bookshelf Speakers
"the package looks good, sounds good, and fulfills both digital and analog playback rolls with enthusiasm."

Read Full Review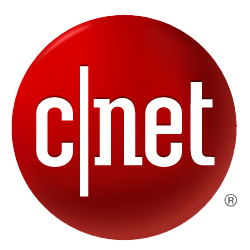 Steve Guttenberg of CNET Reviews the Ai40s
"Fluance's $200 stereo Bluetooth speakers sound is almost too good to be true"

Read Full Review



The Soundbar Killer - Review by Joe N Tell
"They get more than loud enough, it's a super flat frequency response... I don't know what else you can ask for when it comes to speakers, for me, these are the holy grail when it comes to speakers."


iMore Reviews the Ai40 Bookshelf Speakers
"the Fluance Ai40 rise above their ranks and set a new gold standard for bookshelf speakers"

Read the Full Review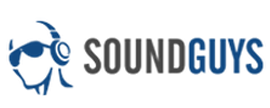 Loud sound, innocuous design - Soundguys Reviews the Ai40 Powered Bookshelf Speakers
"For a pair of sub-$200 speakers, these are a no-brainer for home audio enthusiasts. From the home audio beginning to the ardent enthusiast, the Ai40 are a solid fit."
Read the Full Review
Customer Reviews
Brendan, L

December 3, 2018

Intermediate Listener - 6 Years

Kansas, United States

I did a lot of research on finding the best bookshelf speakers on the market. But a lot of them that I found were just out of my price range or to risky. I then stumbled upon this company once again and decided to do a little research on these speakers. I found that these speakers were affordable and were reviewed with a high rating. So I settled down on these and bought them. While being shipped they were shipped to the wrong address all the way in California and had to be sent back to Fluance. They were shipped back out and made it to my address finally about 2-3 weeks later. I was expecting the package to be dinged up a bit but it wasn't. I will tell you that Fluance really knows how to ship your packages properly so I give them a huge thumbs up. Finally, I got to hook these bad boys up, I was pleasantly surprised as always. The sound quality was great, but you always have to give them sometime to break in. I'm writing this review today and I've had the speakers for about a month now. All I can say is that I'm extremely pleased with my purchase. The speakers somehow are giving out a huge amount of low end for their size and have clear, crisp, and sharp mids and highs. Everything is balanced with no complaints. The speaker's design its self is very elegant and pleasing to look at as well. So all I can say is look no further and purchase these. I've bought a few products from this company and I've never been disappointed. All I can say is I am a dedicated Fluance customer as they haven't disappointed me and I doubt they will disappoint you either.

Jim

November 24, 2018

Advanced Listener - 20+ Years

Ontario, Canada

Excellent sound, excellent bluetooth connectivity, excellent price, and excellent customer service, however a problem with buzzing sound at low levels would be a qualifier for recoomendations to others.



Austin, L

October 20, 2018

Advanced Listener - 6 Years

Washington, United States

I purchased the AI40's to replace a 2.1 computer setup (Swan M10's) and I have never been happier. Although I am no speakerphile, I've spent a long time listening critically with portable "hi-fi" headphones for years and know a good sound when I hear it. When I listened to the AI40's, I was thoroughly impressed.

Pros: For $200, the low-frequency reproduction is nothing short of both marvelous and befuddling - the AI40's are not ported(!!). I was considering a subwoofer but ultimately decided against it. The highs are clear without detectable sibilance and the mid-range isn't overly emphasized or recessed. While I do prefer a more mid-forward sound, I am definitely not disappointed with the signature of AI40's; they strike me as slightly v-shaped from a subjective standpoint. The bluetooth features worked for me without issue on the AptX codec and my Huawei Mate 10 Pro. No skips or connection difficulties.

Cons: If you intend to use these as near-field monitors/speakers (as I am using them on my desk), there may be an audible hiss varying with some combination of power adapter cable, power source (wall or surge), source (computer/pre-amp etc.) and nearby interference. I reached out to Sean from Fluance support on this issue and they sent me a new power adapter cable without question. As a tip for other users out there, the better you can isolate noise in your chain, the less noticeable it will be (hint: start with wall power). One last grievance I would have is with the DSP correction/processing - occasionally, adjusting the volume via remote or the knob causes slight/temporary (less than a second) distortion in the low-end frequencies as the DSP makes its adjustments. I've been assured by Sean that this is normal and I'm inclined to agree. Not too big of a problem, unless you adjust volume constantly.

Overall, the AI40's are an excellent pair of speakers and the folks at Fluance offer fantastic customer support. For $200, I can't think of a better powered bookshelf offering with aptX Bluetooth and RCA aux inputs.

Larry T

September 24, 2018

Advanced Listener - 20+ Years

Virginia, United States

I bought these speakers to replace a dead sound bar for my wife. Both she and I were blown away by the sound. These speakers are all I could hope for and more from a Bookshelf speaker. They truly are the Sound Bar Killer.

Customer Experience. Check.
From the moment I thought about purchasing them to break in time, the whole ride has been super customer friendly - a round of applause.

Audacious sound. Check.
Well I guess you knew that already but these bad boys punch way above their weight class with clear clean highs and beefy low end tones. - Blows the nearly twice as expensive Apple speaker out of the water, and I am a Mac man, painful but true.

Value for money. Double Check.
I cannot figure out how FLUANCE makes money with all they deliver in these speakers... All I can say is, go no further, buy the Ai40's and marvel at the wonderful sound it presents.

Russ G

September 15, 2018

Audiophile - 20+ Years

California, United States

Recently I bought a pair of Ai40's to use as studio monitors. Originally i was to buy some KRK 5's but I found out that the Fluance speakers were just as flat, went 13 Hz lower and cost $100 less! Well lets try them. So I did. Holy cow. Such clarity. I realize these are not designed as studio monitors but they sure serve. Very impressed. I will be buying more from this company for sure.