 Ai60 High Performance Powered 6.5" Bookshelf Speakers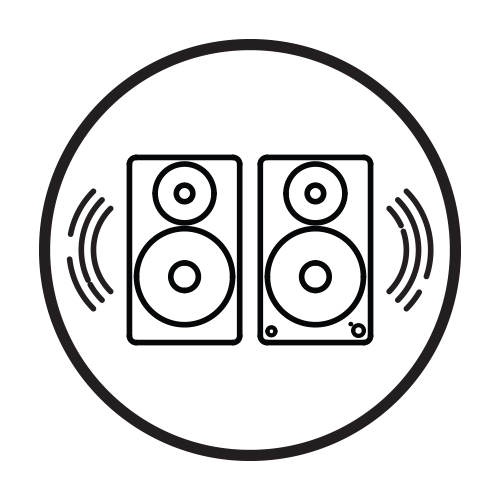 RAW POWER MEETS SUBLIME SOUND
Experience true stereo sound with these high performance active bookshelf speakers with an integrated 100W Class D amplifier designed to deliver a crisp, deep and accurate response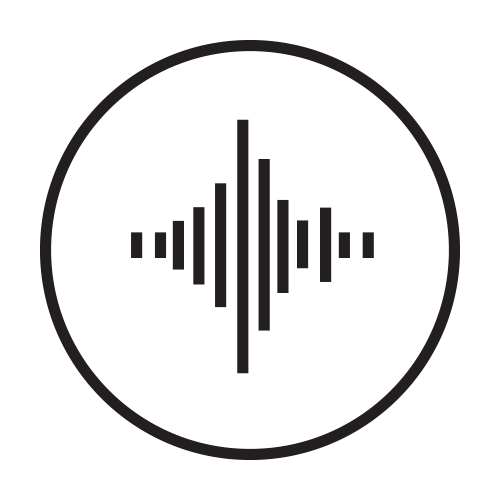 TRUE AUDIO VERSATILITY
Level-up any sound system in your home including your turntable, TV, computer, or Bluetooth speakers to experience unparalleled sound in any set-up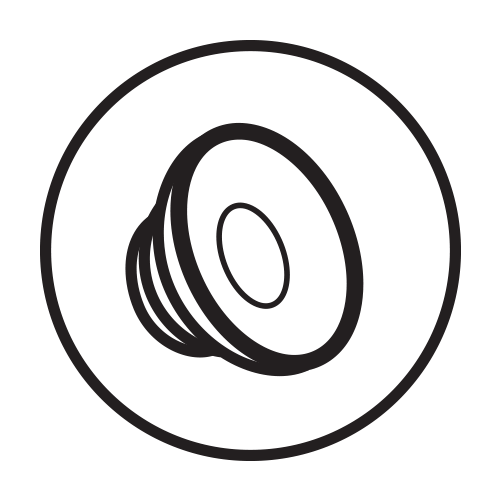 PREMIUM COMPONENTS
Meticulously developed with 1" silk dome tweeters and 6.5" woven drivers producing stunning highs, balanced mids, and powerful rich bass

PRECISION-CRAFTED WOOD CABINETS
Hand-built with engineered wood, creating a warm, distortion-free sound for exquisite audio reproduction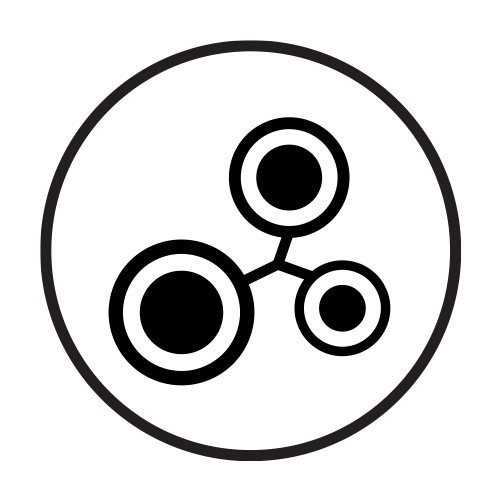 ULTIMATE MUSIC CONNECTIVITY
Pair these feature-rich speakers to any source through Bluetooth aptX, RCA/Aux, Optical, PC/MAC USB, and add more bass with the subwoofer output… if you dare
Overview
RAW POWER MEETS SUBLIME SOUND
Specifications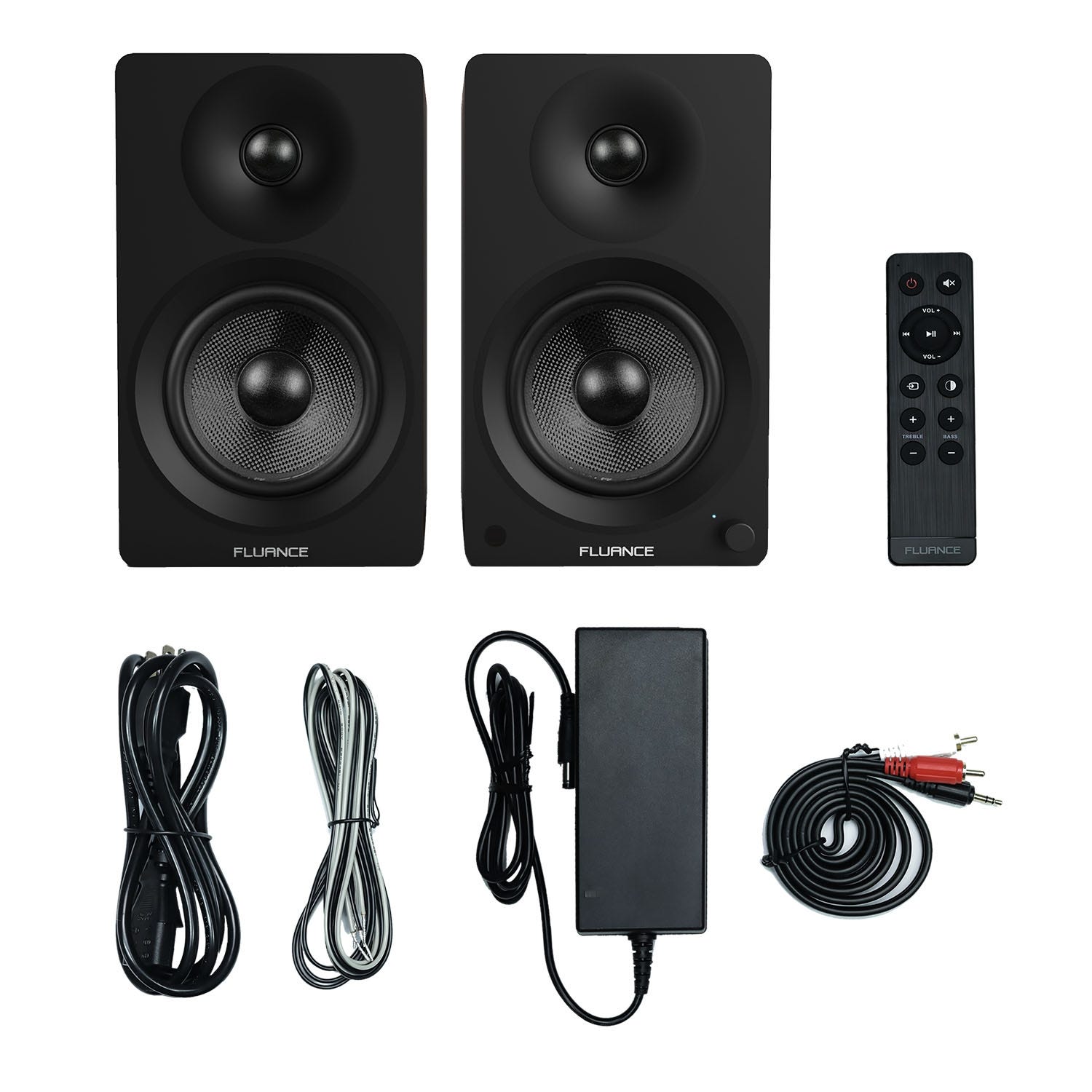 Speaker Configuration
2 Way – 2 Driver Powered Bookshelf Speaker System with Integrated Amplifier (Pair – 1x Active 1x Passive)
Bluetooth
Yes; aptX Codec
Inputs
RCA L/R, Digital Toslink Optical, Micro USB
Tweeter
1 inch Silk Soft Dome Ferrofluid Cooled
Woofer
6.5 inch Woven, Glass Fiber Composite Drivers with Butyl Rubber Surrounds
Amplifier Power
Class D 100 Watts Continuous Average Output (2x 50 watts)
Frequency Response
35Hz – 20KHz (DSP Virtual Sound)
Internal DAC
Cirrus Logic CS8416
Internal Lead Wire
18 gauge Internal Lead Wire to Reduce Signal Degradation
Power
Input: 100-240V; Output: 24V 3.0A
Crossover Frequency
2600Hz Phase Coherent – PCB Mounted Circuitry
Enclosure
Acoustic Suspension Design
Dimensions
13.1 x 7.8 x 9.2 inches / 33.3 x 19.8 x 23.4 cm (HxWxD)
Speaker Weight
29.3 lbs
Speaker Type
Bookshelf
Certifications
ICES, FCC Certified, ETL/CETL
Subwoofer Output
Yes
Total Harmonic Distortion (THD)
<0.3%
WiFi Casting
Pairs via Bluetooth with Google Home, Amazon Echo and AppleTV (Ai60 is not a WiFi speaker)
Frequency Response Graph

Click to Expand

Fluance Speaker Size Comparison Chart

UPC
871363024787
What's Included

Ai60 Speaker Line Out

Click to Expand

Fluance Ai60 Powered Bookshelf Speakers (pair)
Remote Control
2x AAA Batteries
100-240V Power Adapter
8ft 18 Gauge Speaker Wire
3ft 3.5mm Aux to RCA Cable
Quick Start Guide
Fluance Catalog
Lifetime Customer Support
2 Year Manufacturer's Warranty
Press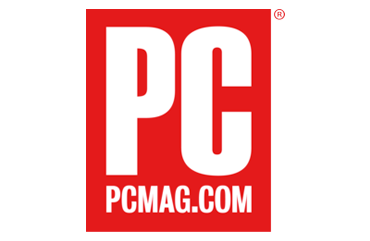 PC Mag Reviews the Ai60 Bookshelf Speakers
"The Ai60 speakers can get exceptionally loud, and on tracks with intense sub-bass content... the drivers deliver powerful bass response."

Read Full Review



The Soundbar Annihilator - Review by Joe N Tell
"This thing can actually play down to 35 Hz and at significantly loud volumes - that is a huge surprise"


Customer Reviews
Richard A

March 31, 2020

Novice Listener - 3 Years

New Jersey, United States

I purchased these to start out my first turntable set-up. The price point and versatility of inputs (Bluetooth, RCA, etc) were the main reasons I was interested in the AI60s. I've been using them for about two weeks now and they sounds really good. I haven't purchased a turntable just yet (looking to get the RT82) but I've been listening via bluetooth and optical cable (using Spotify on AppleTV) and it's been a great experience so far. Really looking forward to testing it out once I have a turntable and preamp set up. They look great, sound great, so far so good. I would recommend them to others looking to not break the bank but not wanting to compromise on sounds/versatility.

Richard A

5

Yuriy K.

March 30, 2020

Intermediate Listener - 5 Years

California, United States

bought these on a whim to prepare for a lengthy WFH situation to replace a ~10 year old Boston Acoustics soundbar.

I connected the Fluance record player with built in pre-amp, the TV via optical, and two devices via bluetooth and it was a very simple set up, everything just works.
The sound beats the sound bar. I thought I'd have to buy a sub since the one I have is only wireless, but these little guys have decent base. More importantly, the sound quality absolutely blows away the previous set up, is simple to get going. My only concern is how these will play into a larger set up in the future if at all, but I don't think I'll be buying a colossal home any time soon. For a smaller apartment, these are ideal.

Yuriy K.

5

Clelio P

March 30, 2020

Advanced Listener - 10 Years

Quebec, Canada

Bought this to connect to my turntable and TV. It sounds really good and it can get very loud. I found the bass to be slightly too strong, but that is my personal taste and it never overclouded the mids and highs. Unfortunately I had to return it because it ended up being bigger than I anticipated. Getting the Ai40s instead.

Clelio P

4

M Lemire

March 27, 2020

Advanced Listener - 20+ Years

Quebec, Canada

Excellent design and the sound is as great as expected. Since I exchanged by email cause I had an issue to discuss, I greatly appreciated the customer service.

M Lemire

5

j d

March 26, 2020

Advanced Listener - 20+ Years

Arkansas, United States

good one

j d

4

Steven K

February 5, 2020

Audiophile - 15 Years

North Carolina, United States

If you've been looking for some speakers with some serious oopmh look no further. I'll admit I was skeptical about these when I bought them. I usually find powered bookshelves in this price range less than underwhelming. In fact they're usually just flat out disappointing. Not so with these. While I wouldn't say they're "perfect", they're the next best thing for the money. The highs are clear, even if they're a little dark to my ears at times. The mids are crisp and well balanced with the highs. The lows, well, they're very low. I haven't heard a bookshelf with this low, clear, and tight of a bass response with as much output as these without spending 2x-3x as much. The ability to adjust the bass and treble to your liking via the remote is clutch. In some select genres of music you don't need/want bass that is too powerful and in others you just need it pounding. I was surprised that I didn't "need" a subwoofer with these. Now, would a subwoofer add something? Of course. You're not going to get that visceral slam without an external subwoofer, but if you're pressed for space, want to use them as desktop speakers in your office and still want to jam, or want to add some real life to a bedroom TV you can't go wrong with these; the bass is awesome. I suspect the same thing could be said about their little brother, the Ai40, but I haven't heard those yet. While I haven't tried these for hifi listening I can't imagine anything would change. They're well designed and solid speakers. The ability to dim and turn off the LED if you want was a good choice for them to include in this set. While the LED's luminance is by no means an issue in an office setting I can definitely see how it could be in a darker setting like while watching a movie. It's nice to be able to choose. Good job, Fluance. Keep it up.

Steven K

5

Robert H.

February 4, 2020

Novice Listener - 3 Years

Georgia, United States

Great speakers, but they came with the wrong cord to connect to my Fluance turntable. Reached out to customer support to never hear back. They responded by Awesome customer support.

Robert H.

1

Samantha B.

January 14, 2020

Texas, United States

Beautiful finish, great sound, love the features

Samantha B.

5

Maksym N

January 9, 2020

Intermediate Listener - 15 Years

New Hampshire, United States

Bought these to use with a TV. No need for amplifier. Just connected optical cable and everything worked. I also can use them with my Iphone through bluetooth. Set up was easy, sound is good for the price. The speakers look nice also. Thanks.

Maksym N

5

Jason K

January 5, 2020

Intermediate Listener - 15 Years

British Columbia, Canada

Great speakers and the sale price couldn't be beat!

Jason K

5

Crash Murdock

January 4, 2020

Advanced Listener - 20+ Years

Missouri, United States

After a slow and methodical break in I really enjoy the clarity of these speakers. At first they sounded harsh and heavy with a droning sound not so pleasant but that only lasted bout the first half hour. They improve as the break in time proceeds this is a very important step in my opinion Take the time to break in properly you wont be disappointed. The construction quality is solid and very durable looking, nice and heavy. Only use these with my Fluance RT85 and paired together they make my vinyl collection come to life. Everything from Folk to Heavy Metal. I like a variety of sound so clarity in midrange is important proper break in helped bring the Mids out. Bass is heavy hitter with these but you can manage it with the remote. Love Them Awesome Speakers!!!

Crash Murdock

5

Christopher M

January 3, 2020

Advanced Listener - 20+ Years

Ohio, United States

I am clearly an outlier, but I find the bass far too heavy for these. Have a pair with the RT-85 and PA-10 in my home office. Find the bass, turned to -6, way too thumpy across a wide genre of music and even at low volume. Detracts from the otherwise solid sound quality

Christopher M

3

stephan D

January 2, 2020

Advanced Listener - 20+ Years

Nova Scotia, Canada

Couldn't be happier. They look great, sound fantastic and the pairing of devices is super easy. Would highly recommend!

stephan D

5

Todd C.

January 2, 2020

Intermediate Listener - 20+ Years

Arizona, United States

Great product! Pulled it out of the box, hooked it up, connected to bluetooth and got blown away! Only a week in and so far, I have enjoyed rediscovering music. Can't wait until they fully break-in. Have not tried with the optical table from TV yet, but can imagine these would blow away most any sound bar. Deep bass for the size, and I like the sealed cabinet for cleaner, clear mids and lows. Seems to have plenty of room filling power. Well made and handsome cabinets. Theses are not "top tier" $3000 cabinets, but then again that is the point. For most listeners that are not looking to have a $3000 set-up, but want something clean and simple, this is it!

Todd C.

5

Mike

January 2, 2020

Advanced Listener - 17 Years

Maryland, United States

I purchased the Ai60 Bluetooth speakers just a couple of days before Christmas. I can truthfully say I'm not disappointed they have a full healthy sound and can reach ear piercings volume overall definitely a soundbar killer with true stereo separation.

See all reviews

Mike

4
Resources
Guides
Manual
FAQs
What's the difference between the Ai40 and Ai60? ▼
Model
Ai40
Ai60
Drivers
1" Tweeter,
5" Woofer
1" Tweeter
6.5" Woofer
Frequency Response
40Hz – 20KHz
(DSP Virtual Sound Perceived by Ear)
35Hz – 20KHz
(DSP Virtual Sound Perceived by Ear)
Connections (Input)
RCA L/R (Aux to RCA cable included)
RCA L/R (Aux to RCA cable included) Toslink Optical
Micro USB
Size HxLxW
10.9" x 6.5" x 7.6"
13.1" x 7.8" x 9.2"
Weight
15.1 lbs
29.3 lbs
Amplifier
Class D 70 Watts Continuous Average Output (2x 35 watts)
Class D 100 Watts Continuous Average Output (2x 50 watts)
Sub Out
No
Yes
What can I connect to Ai60? ▼
Ai60 includes inputs for USB audio from a computer, Toslink Optical for connection to a TV and RCA L/R (3.5mm Aux to RCA cable included).
Some devices you can connect are:
- Turntables
- Smartphones and MP3 Players
- Laptops or Desktop computers
- Game Consoles
- Televisions
Can I connect a subwoofer to Ai60? ▼

Yes! One of the most common requests after the launch of Ai40 was a Sub Out connection. This has been included on the Ai60 which matches up great with the Fluance DB10!
 
Do I need an amp or receiver with Ai60? ▼

Absolutely not! The Ai60 Powered Bookshelf Speakers are powered by a 100-Watt amplifier built into the right speaker, this provides power to the left speaker through the included 18 gauge speaker wire!
 
Can I connect Ai60 speakers to my TV? ▼

Yes! Using the Toslink Optical connection, you can connect your TV directly to your Ai60 Speakers! When using the speakers this way, it will be important to set you TV audio output to PCM or Stereo as Ai60 does not support Dolby or surround options.


Does Ai60 have a preamp for my turntable? ▼

While the Ai60 does not include an internal preamp for use with a turntable, those with built-in preamps such as the Classic (RT80) and Elite (RT81) will not require additional equipment to be played over the Ai60 speakers.
To maintain the cleanest signal path, the Reference Series (RT82 to RT85) will require an external preamp.

 
Articles from our experts