RT85 Reference High Fidelity Vinyl Turntable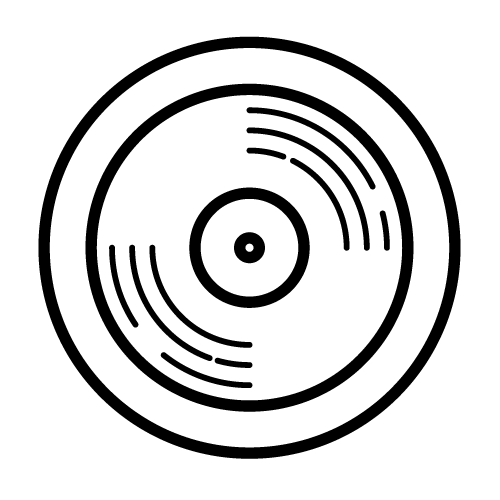 PURE ANALOG PERFORMANCE
The definitive vinyl record listening experience for beautifully warm and natural music, transporting you into the center of the performance

EXCEPTIONAL MUSICAL ACCURACY
Immerse yourself in the detailed high resolution sound of the Ortofon 2M Blue elliptical cartridge delivering improved linearity, higher channel separation and reduced distortion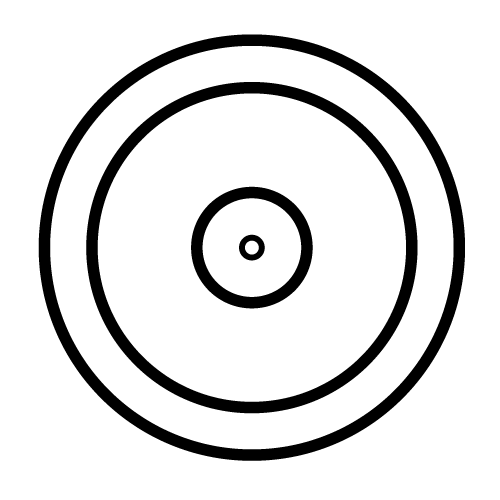 HIGH DENSITY ACRYLIC PLATTER
The greater mass of the acrylic platter damps unwanted vibrations resulting in a more 3-dimentional sound with tighter bass, a fuller midrange, and overall improved clarity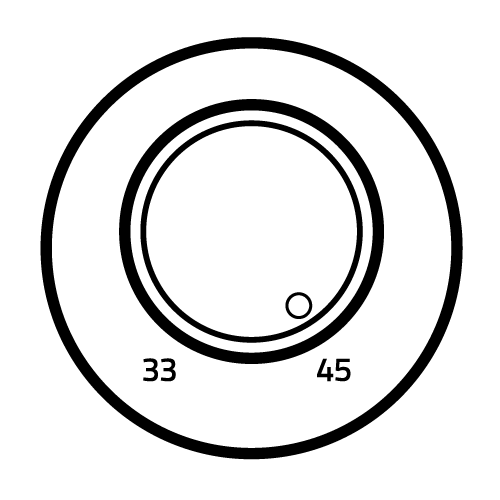 SPEED CONTROL FOR PRECISION PLAYBACK
The isolated motor prevents unwanted vibrations and noise while the speed control mechanism ensures consistent platter velocity (0.07% Wow/Flutter)

SOLID WOOD PLINTH
Revel in the gorgeous solid wood cabinet and adjustable resonance damping feet, ensuring superior isolation from unwanted micro-vibrations (Note: phono preamp not included)
Overview
UNPARALLELED VINYL MUSIC PLAYBACK
Specifications Cabinet Specifications
▼
Cabinet Material
MDF
Finish
High Gloss Black Paint
Dust Cover
Yes - Tinted
Turntable Specifications
▼
Drive System
Belt Drive
Motor
DC Motor with Servo Controller Analyzes motor speed 500 times/sec
Speed
33 1/3 RPM, 45 RPM
Speed Variation
0.10%
Wow and Flutter
0.07%
Signal-to-Noise Ratio (Weighted)
76 dB
Signal-to-Noise Ratio (Unweighted)
65 dB
Platter
Acrylic
Diameter of Platter
12 inches (30 cm)
Auto-Stop
Yes
Turntable Mat
Rubber
Tonearm Specifications
▼
Tonearm Type
Static Balanced, S-Type
Supported Cartridge Weight
0.12 – 0.25 oz (3.5 – 7.5 g)
Anti-skating Adjustment
Yes – Adjustable
Pivot Bearing
Yes
Tonearm Material
Aluminum
Tonearm Wire
36 AWG Litz Cable / 7 Strand
Effective Tonearm Mass
0.99 oz (28.2 g)
Overhang
0.76 inches (19.2 mm)
Effective Tonearm Length
8.82 inches (224 mm)
Headshell Mount
H-4 Bayonet Mount
Cartridge Specifications
▼
Cartridge Type
Moving Magnet (MM)
Catridge Model
Ortofon: 2M Blue
Replacement Stylus
2M Blue
Stylus
0.3 x 0.7 mil
Cantilever
Aluminum
Mount
Half-inch
Frequency Response
20 - 25,000 Hz
Channel Separation
25 dB at 1 kHz
Channel Balance
< 1.5 dB @ 1 kHz
Load Impedance/Capacitance
47k Ohms/150 - 300 pF
Output Voltage
5.5 mV
Cartridge Weight
0.25 oz (7.2g)
Headshell Weight
0.35 oz (10 g)
Recommended Tracking Force
0.06 - 0.07 oz (1.6 - 2.0 g)
Vertical Tracking Angle
20°
Rubber Belt Specifications
▼
Width
0.17 inches (4.5 mm)
Length
36.02 inches (915 mm)
Thickness
0.02 inches (0.6 mm)
Output Specifications
▼
Connector
RCA (Gold-plated)
Preamp
No - Separate Phono Preamp Required
Phono Output
5.5 mV
Phono Bypass
N/A
Line Output
N/A
Ground Terminal
Yes
Power Specification
▼
Input
100 – 240 V AC (50/60 Hz)
Output
12 V / 500 mA
Consumption
1.5 W
General Specifications
▼
Dimensions
16.5 x 5.5 x 13.75 inches (419.1 x 139.7 x 349.25 mm)
Unit Weight
14.1 lbs (6.4 kg)
Operating Temperature
41°F to 95°F (5°C to 35°C)
UPC
061783268414
What's Included

RT85 Reference Turntable Line Out

Click to Expand



RT85T Turntable
Dust Cover + Hinges
Bubble Level
Headshell with Ortofon 2M Blue Cartridge
Counterweight
Acrylic Platter with Belt
100 - 240 V (50/60Hz) AC Power Adapter
3ft RCA Cable
2x 3 ft Ground Wire
45 Adaptor
Motor Pulley Cap
User Manual
Lifetime Customer Support
2 Year Manufacturer's Direct Warranty
Customer Reviews
Brent M.

January 14, 2019

Advanced Listener - 20+ Years

Wisconsin, United States

Extremely well thought out turntable ---- Lots of pros:
** Price point
** Ortofon 2M Blue cart
** Gorgeous piano gloss black finish
** Belt drive operation untra silent and stable speed
** Three point suspension system is height adjustable
** Allows for your own RCA cables
** Acrylic platter is perfectly flat and silent
** Overall 14-15 pound turntable with some mass

The only con (if you can call it one) is that the appearance of the plinth on the box and on the advertisements is thicker than it actually is --- not a biggie but I think the pictures are deceiving.

Just a great turntable at a great price point with excellent sound quality and well engineered for people of all listening levels! Well done!

Shawn H.

January 8, 2019

Advanced Listener - 2 Years

California, United States

I am in love with this table. I upgraded from an AT LP60. The sound is simply crisp, clear and amazing. It was like I was sitting in the studio during recording. The acrylic platter is beautiful and the plinth is gorgeous. You will not find a better table for the price... Especially one that come with 2M Blue! You will not regret purchasing this TT.

Terry E

December 29, 2018

Audiophile - 20+ Years

Ontario, Canada

I received this turntable on Dec. 28th , set up was a breeze and it sounds terrific with the Ortofon 2m blue cartridge , the acrylic platter looks great against the walnut finish on the plinth , I checked rpm with a phone app and found it dead sold , the build quality is great and the sound is awesome coming from my vintage JBL L36 three ways , well worth the purchase price !

Justin Manning, C

December 29, 2018

Audiophile - 17 Years

Texas, United States

I had an RT81 for a while. I ended up trading it in for something else. My biggest complaints were the build in pre-amp and the hum I just couldn't isolate no matter what I did (with the pre-amp on or off). I just attributed most of my issues to the bulit in pre-amp as I've heard other tables with similar issues that also had a built in pre-amp.

I was most intrigued when I read about the release of the new higher end tables. I ordered the RT85 (go big or go home), and it arrived yesterday. I unboxed it, and it's just beautiful and well built. The acrylic platter is very heavy and the entire unit just feels well constructed. Instructions were clear, and unlike every other turntable I've bought, this table comes with high end RCA cables that are gold plated. Also a pair of white gloves were included. Not necessary, but a clever touch. I also felt under dressed for the occasion.

Got it all hooked up, and turned it on for the test. Biggest first test, NO HUM. Zero (I ran it into a Yamaha AS-701). Then I did a few speed checks (that's an issue I didn't have with my RT81 but one I know many have claimed to have). I did a few strobe light tests and a few tests with an app I have on my phone. Both tests returned very excellent results. All within +-.03 (better than the advertised .07). So the speed is dead on. I also checked the accuracy of the counter weight numbers, and they were pretty close to perfect as well according to my digital scale. I then checked the alignment of the cart and it too was spot on.

Threw on a few records to begin my listening test. This table sounds great. There's really no other way to word it. I got zero feedback (which I did sometimes with my RT81), no issues with inner groove distortion on anything I've played. I've played it with lid open, down and off, and haven't heard any differences in the three. I still need more time to break in the Ortofon Blue, but once it's broken in, I have zero doubt everything will really open up. I've used Blues in the past and I know they do take around thirty hours to break in.

In closing, this truly is an audiophile table at a great price. There isn't a VTA adjustment, but as long as you're using the included cartridge (or upgrade within the Ortofon 2M family), I shouldn't think that would be a major issue. It sounds great and it outshines the competition in it's price range by a long shot (looking at you U-Turn Orbits). I'd even venture to say it's better than the Pro-Jects in this price range as well. It also has something the competition doesn't. Automatic stop at the end. That doesn't sound like a big deal to many, but to me it is. I've gotten over the fact that nobody today is going to make an audiophile grade fully automatic table (that dream died in the 70s and 80s apparently lol), but just having the auto stop option at the end puts this table (and the previous Fluance tables) a step above the competition to me.

Final verdict. Total knock out home run. It looks great, it sounds great and I love it. I'll be using this for years to come. Buy it today. I don't think you'll regret it.

Todd Chivers

December 17, 2018

Audiophile - 20+ Years

Saskatchewan, Canada

I would love to be the 1st yo review but unfortunately wont br able to purchase it till the new year....
Resources
FAQs
Do I need an amplifier for this turntable?▼
An amplifier is only needed if you're connecting the turntable to passive speakers such as the Signature Series Bookshelf Surround Speakers.
If you're looking for an option without a separate amplifier, the Ai40 Powered Bookshelf speakers fit the bill.
With the Ai40, all you need to do is connect the included RCA cables to your preamp, then to the speakers and you're ready to listen to the music the way it was meant to be heard.


Do I need a Preamp?▼

If you intend to use your Reference series turntable with powered bookshelf speakers such as our Ai40 model, a preamp will be required.
The preamp will boost the signal to line level (similar to a headphone jack) so you can play it on speakers with RCA or AUX inputs.

If you have a home theater or stereo receiver/amplifier, you will need a preamp if the amplifier does not have a PHONO input. If you have a PHONO input, you may have a preamp already built in. Be sure to refer to the manufacturer's specifications or manual for confirmation!


Why does this model not include a preamp?▼

This design choice was made with a number of factors in mind. The main reason was to separate electronics from the turntable's signal path to maintain the purity of the analog signal. Many listeners also like to customize their listening experience and choose specific components such as preamps based on unique sonic qualities. Using separate components also allows for optimization of cartridge and phono stage compatibility. If you upgrade your cartridge in the future, you can pair with an optimal phono preamp to maximize performance and achieve the sound profile you desire. !


What are the benefits of the Reference series turntables?▼
What's new!

What does it mean?

The motor is located away from the platter

Allows the use of an acrylic platter, reduced rumble at the stylus.

90pF RCA cables

Upgraded RCA cables with higher capacitance to protect and maintain the purest signal path.

No internal preamp

Provides a clean signal, with no electronics in the path for increased audio quality.

Spring loaded adjustable feet with built-in isolation

Allows the turntable to be leveled on any surface, bubble level included.
Spike-shaped feet prevent outside vibrations from affecting audio quality.

Servo controlled motor

Improves speed consistency and reduces wow and flutter by checking the speed up to 500 times per second!

Ortofon Stylus

All Reference turntables are compatible with Ortofon OM10, Blue and Red Cartridges.

112g Counterweight

Heavier counterweight to accommodate the Ortofon stylus.
More diverse upgrade options.

Compatible with an acrylic platter (included with RT84/RT85)

Heavier, denser material reduces resonance and improves speed consistency, not to mention great looks!

Customizable

All Reference turntable components are compatible with each other giving you a clear upgrade path!
What does a servo motor do?▼
We want our users to experience music the way it was meant to be heard and have pulled out all the stops for the new Reference series.
These new turntables include a servo belt drive motor.

What does this mean for you?

This means that you have a sensor checking and adjusting the speed of the motor up to 500 times a second to make sure the speed of your turntable is consistent with no manual adjustments, bringing wow and flutter under 0.7%!


Which cartridges can I use on my turntable?▼

Reference turntables are compatible and shipped with with moving magnet cartridges such as the Ortofon OM Super, 2M Red and 2M Blue, giving you the ability to customize your system for top tier performance.
Cartridges must be between 3.5 to 7.5 grams to be balanced correctly.


Why is an acrylic platter better?▼

Acrylic is an extremely stable and dense material. This greatly reduces resonance that can be picked up by the cartridge from the environment such as people walking by, large vehicles passing or other sounds that create a lot of vibration.
This also gives it considerably more weight compared to an aluminum platter of the same size. The extra weight of the platter during rotation helps the platter to spin flatter and at a more consistent speed, reducing wow & flutter.


Do I need a platter mat with the acrylic platter?▼

There is no need to use a platter with the acrylic platter!
If a platter mat is used, it may interfere with the vertical tracking angle of the stylus.
Additionally, the resonance of acrylic is very close to vinyl so a mat is not needed.
As an added bonus, the acrylic looks fantastic!